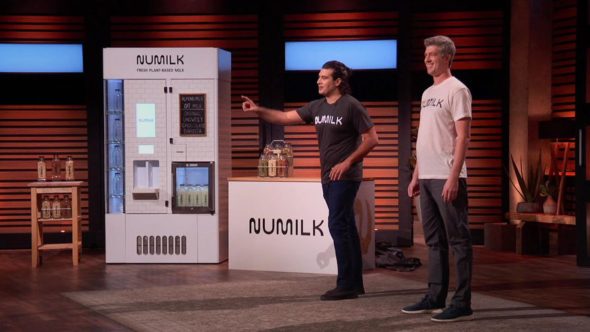 Joe Savino and Ari Tolwin seek an investor for NUMILK, their "make it yourself" almond milk machines, in Shark Tank episode 1219. Both men are beverage industry veterans. Ari cofounded Happy Tree Maple Water in 2013 and served as CEO for 4 and a half years. Joe cofounded Harvest Beverage group, a beverage copacker, in 2013 and worked there for 5 years. Joe is the inventor of the NUMILK machine.
Basically what their machine does is make almond milk on demand. Unlike many packaged almond milks, the stuff that comes out of their machine has only two or three ingredients: almonds, purified water and maple syrup (if you want it sweetened). Almond milk is becoming increasingly popular. Almonds are good for you too: they contain vitamin E, calcium, phosphorous, iron, magnesium, zinc, selenium, copper, and B vitamins.
The machines are about the size of two refrigerators. All a customer does is grab a bottle, put it under the spigot and select sweetened or unsweetened. In about thirty seconds, they have a bottle of fresh almond milk for $3.99. The process eliminates a lot of  supply chain food waste and delivers a fresher, healthier product to consumers. As of the original air date, they have machines in greater New England and  New York Whole Foods Markets and a few other mom and pop grocers. Whole Foods wants to expand the machines' footprint and NUMILK plans on rolling out oat, macadamia, and other alt-milk options for their machines. They likely need a Shark to build more machines to service more locations.
Company Information
Posts about NUMILK on Shark Tank Blog
Nu Milk – Almond Milk Machines
NUMILK Shark Tank Recap
Joe and Ari enter the Shark Tank seeking $1,000,000 for 5% equity in their business. That number got the Shark's attention. They tell their story and explain their product. The Sharks try the samples placed before them and Mark comes onstage to make some milk with the machine. The Sharks like the taste. Right now, they have almond and oat milk now, but can add other flavors. The milk has a 7-10 day shelf life and must be refrigerated.
Kevin raises the concerns about the capital investment. Each machine generates $50,000 per year and they cost $30,000 to make, but they can get it down to $15,000. The bottle (reusable) costs $2 and it costs $3.99 to refill it. The grocery store takes on third of that. To date, they've raised $12 million at a $40 million valuation.
When they unveil their home countertop machine prototype, the Sharks ooh and ah. It costs $85 landed and will sell for $199. In 2018, they had $40,000 in revenue from one machine for a partial year and spent $2 million in R&D. 2019 had $320,000 in sales with ten machines and they spent $3 million. For 2020, they were on track to do $6 million, but launches with major grocery chains were delayed due to the Covid-19 pandemic and they'll spend another $2 million. Actual sales will be $400,000. They do have $3 million in the bank though.
Can They Milk a Deal?
Barbara says she doesn't get it; she's out. Daymond is confused too; he's out. Lori says there is a lot to explain and she says it's not investable for her; she's out. Mark asks what their commercial grade counter top device costs: $699 and it costs $300. Kevin says he thought they were nuts when they first walked out, but he offers a $1 million loan at 1.5% interest for 3 years for 5% equity. Mark thinks they'll sell a million of the countertop units, he says they'll need cash. He says 5% is not enough. Mark offers $1 million for 7% equity and an optional loan for $1 million at 3% interest for another 3%, but he doesn't get the extra 3% if they don't take the loan. They do the deal.
NUMILK Shark Tank Update
The Shark Tank Blog constantly provides updates and follow-ups about entrepreneurs who have appeared on the Shark Tank TV show. Since airing, they are still in negotiations with Whole Foods. They have machines in 28 independent grocers across the USA. The deal with Mark has not closed as of July, 2021, but my sources tell me they are close to finalizing. The guys started a Kickstarter for the home version machine the day they aired on Shark Tank and raised $222,353. The home machine is also listed for sale on a pre-order basis on their website.
The home machine promises to be the Keurig of plant based milk. Unlike the large machines, the home and coffee shop versions use a pouch of finely ground almonds (or what ever flavor you want) and water. The pouches reduce packaging and shipping waste by not including liquids. Add the contents of the pouch and the water to the machine, push the button and it makes your milk.
By July, 2022, the deal with Mark ultimately did not go through. Neither did the deal with Whole Foods. The company pivoted and now markets to coffee shops. They have their commercial machines in 69 shops nationwide at this time. They're also in a few small, independent grocers. Their website says the home version will be ready for shipping in the fourth quarter of 2023. In March, 2023, the company entered into an agreement with Hamilton Beach Brands to manufacture and sell commercial and consumer appliances for use with Numilk ingredient pouches. Hamilton Beach plans to launch the new appliances in "early 2024." By August, 2023, they had machines in 133 shops.
I will update this page as more information becomes available.