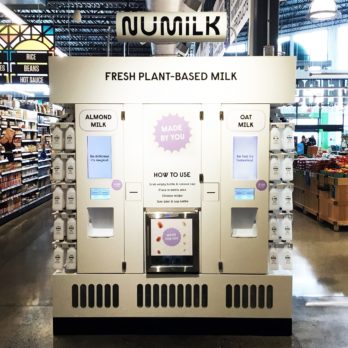 Joe Savino and Ari Tolwin invented the Nu Milk almond milk machine to give consumers fresher almond milk and cut down on waste in the food supply chain. Consumers choose their ingredients, push a button, and have almond milk in thirty seconds that's more nutritious than packaged almond milk. Almonds are high in vitamin E, but many packaged almond milks contain gums and carrageenan which can disrupt digestion. Nu Milk also has five grams of protein, three grams of fiber and calcium.
Both men are beverage industry veterans, so they know the ropes and the players involved. They consulted with Whole Foods while developing the machines and had them in a little over a dozen stores in 2019. I have to believe the Covid-19 stalled their further expansion into Whole Foods.
The machines do more than dispense almond milk, they cut down on waste. The standard bottle is glass (though some locations use plastic), which is far easier to recycle. There's no other packaging or manufacturing, so it's more eco-friendly too. It also cuts down on manufacturing waste: the USDA says $91 billion of dairy products are wasted every year due  to manufacturing issues. The guys obviously have some distribution, they likely want a Shark to help them accelerate manufacturing more machines. Will the Sharks drink this milk?
My Take  on Nu Milk
Machines like this are cool. A local grocery store I shop at has a pineapple machine that cuts, cores and packages a whole pineapple at the touch of a button. Watching the process is almost as fun as eating the pineapple. I'm sure this machine is just as fun.
I would absolutely buy this if it were in my local store. I have almond milk in my coffee every morning and in my cereal too. Unfortunately, they don't have one placed in my local Whole Foods. When it gets there, I will certainly give it a try.
Do Sharks Drink This Milk?
The Sharks will see these guys as sharp, beverage industry veterans and will respect their past ventures (Ari cofounded Happy Tree Maple Water in 2013 and Joe cofounded Harvest Beverage group, a beverage copacker, in 2013).
I am thinking they don't do a deal with a Shark because Crunchbase lists Stray Dog Capital, a Venture Fund as an investor in this business. Typically on Shark Tank, when there are previous investors, the shares are too diluted to absorb a Sharky offer.