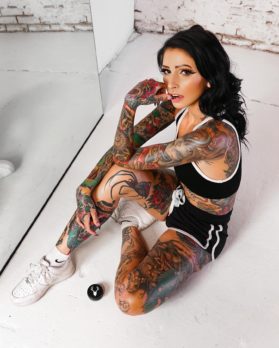 Mad Rabbit Tattoo co-founders Oliver Zak and Selom Agbitor knew they wanted to start their own business, they just weren't sure what it would be. The guys met as freshmen in college and became fast friends. A few months before graduating in 2019, they started Mad Rabbit.
The inspiration for their first product, their tattoo balm, came when Oliver got his first tattoo. The tattoo artist told him to put petroleum jelly on it until it healed. Petroleum jelly has some harsh chemicals and it can prevent proper airflow to your tattoo while it heals. Oliver didn't like that idea, so he set out to create a healing balm with all natural ingredients. Instead of harsh chemicals, their balm has Shea butter, cocoa butter, beeswax, calendula, almond, lavender, cucumber and Frankincense. It protects new tattoos and they claim it brightens up old ones.
Since they started, they've added two new products. In addition to the balm, they're selling a 30 SPF sunscreen and a new soothing gel for new tattoos that reduces itching, scarring, and tissue damage. The balm costs $15.99 and the sunscreen and gel are $29.99 each. If you get all 3 in a bundle, that just $50. In a short time, Mad Rabbit Tattoo has won over the ink community. Reviews are universally positive. The guys say they want to "create a lifestyle brand, one product at a time." Perhaps a Shark can help them achieve that goal.
My Take on Mad Rabbit Tattoo
My wife and I have tattoos. I have Pepe LePew tattooed on my bum and she has Penelope – the kitty he's always chasing – on hers. We got them in lieu of an engagement ring. The characters embody our relationship: I'm the amorous skunk and she's my squirmy kitty.
I remember when we got them we used petroleum jelly for a bit, then switched to some sort of cream. That was in 2001, when the Mad Rabbit tattoo guys were about three years old. I don't have any plans on getting any other tattoos, but after learning about this balm I'd use it if I did.
Will Sharks Tattoo a Deal?
The only other tattoo related product to appear in the Tank was Neo Mag Light, a laser that let you remove tattoos at home. That was in season 4; they got no deal and are out of business. The reason the deal didn't get done is the Sharks were afraid of liability issues.
While Mad Rabbit is a completely different product, it may be too niche for the Sharks. The only way they can get a deal is if a Shark buys into the lifestyle brand thinking. Kevin invested in Doc Spartan, an all natural first aid balm, back in season 8, so he may have a conflict. I can't see Lori or Barbara going for this, so Daymond and Mark are the only hope. One of them may take a flyer on this if the margins and the deal are good, but I don't think that's gonna happen.