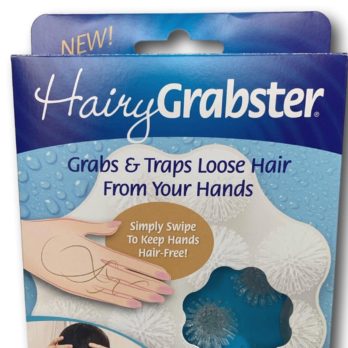 Hairy Grabster creator Patty Watne has one word for hair in the shower: GROSS! Patty and her husband, Andy, pitch their gadget in the Tank in episode 1219. They first thought about making the product when their bathroom flooded due to a hair clog in the shower. Over a period of two years, they tinkered with the idea until they got it just right. Eventually, they contracted with a Chinese factory to manufacture their finished product.
Essentially, the Hairy Grabster is a place to put loose hair that comes off in your hands in the shower. The rubber disk like device has little bristles that grab the hair and hold it in place until you're done showering. Then you pluck them off and throw them away. That way, no hair goes down the drain.
The couple first started selling them wholesale to local hair salons in the greater Chicago area in 2019. Now, they're on Amazon and at WalMart. At only $9.99, it won't break the bank. I have to believe the Covid-19 pandemic disrupted their business since they manufacture in China. They likely want a Shark to help with that.
My Take on the Hairy Grabster
With four  daughters and a wife, I am extremely familiar with hair clogs. I always got the call to clean out the drain in the girls' shower. We use a little bendy thing with bristles on it that you snake down the drain and snag the hair. It was an "As Seen on TV" product. I still have it – it does the job, but it's still a messy job.
I like the fact that this product helps keep hair out of the drain. If my wife and daughter lose 50-100 hairs a day – the national average – they're putting thousands of hairs down the drain a month. No wonder I'm always cleaning their drain! I am getting one of these!
Will Sharks Grab This Opportunity?
The Watnes publicly stated they wanted Lori in a local news interview. This fits into Lori's vision of a product: easily demonstrated, mass appeal and inexpensive. She could blow this up into a million dollar opportunity quickly. I am sure she'll bid and she'll want a Sharky chunk, but she'll make them millionaires by this time next year.
The other Sharks may bid too, but I think Lori does a deal.