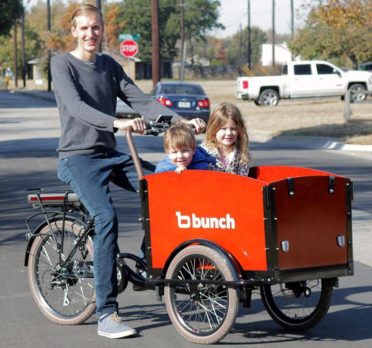 Bunch Bikes CEO Aaron Powell got the entrepreneurial itch when his daughter was born. He wanted the flexibility to "put his family first, so he quit his job as a high school band teacher and started selling jewelry online. Within a year, the site was earning him twice his teacher's salary. He booked a family vacation to Sweden to celebrate and that's where he saw his first family cargo bike.
When he got home, he tried to buy one. He couldn't find a suitable option in the USA, so he sold his ecommerce business in 2017 and started Urban Tribe Cargo Bicycles which became Bunch Bikes in 2018. He changed the name because he wanted to have that wordplay of Bunch (like you can carry a bunch of stuff or having a bunch of fun). Unfortunately, once he found a manufacturer, he had problems. They shipped damaged goods and Powell took a six figure loss. He pressed on and now Bunch is considered a leader in the electric cargo trike field.
Cargo Bikes are growing in popularity all over the world, particularly in urban areas. The reason they're gaining traction is you can pedal with the kids or pets up front where you can see them. There's also plenty of room for groceries or a picnic lunch. The optional electric motor gives you that extra push when you need it. His company is growing and he likely wants a Shark's help managing that growth.
My Take on Bunch Bikes
We are having a debate in our house about getting a third car or using bikes more. My daughter is eligible to take classes at a community college next year (her junior year in high school). She'll need a car for that and my wife needs a car to get to work. I work at home and the only place I go regularly during the day is the grocery store, pool store and the pier. All are within biking distance, but I'd have difficulties lugging groceries or fishing equipment with me.
One of these bikes could solve our problem. Powell started biking when he was having a similar debate in his family, except they sold one of their cars to save while Aaron rode his bike everywhere. With the cargo box, I could lug all my fishing stuff and whatever else I need to haul. I am seriously considering getting one and being a brand ambassador in my area. I am IN!
Will Sharks Like This a Whole Bunch?
Aaron has a good story and he worked out his financial difficulties which could have sidelined less persistent entrepreneurs. He also has a vision for what he wants his company to become. The Sharks will like that and I think, if his valuation isn't out of whack, he could field offers.
Mark and Barbara have invested in bikes before, once together on Villy Custom and once each individually. Mark invested in Guardian Bikes and Barbara in Kazam. Since Bunch Bikes don't really compete, they may float offers. Mr. Wondrful may like the future of the business, so look for a royalty offer from him. Daymond and Lori could bid too, but expect offers from Mark, Barbara and Kevin.