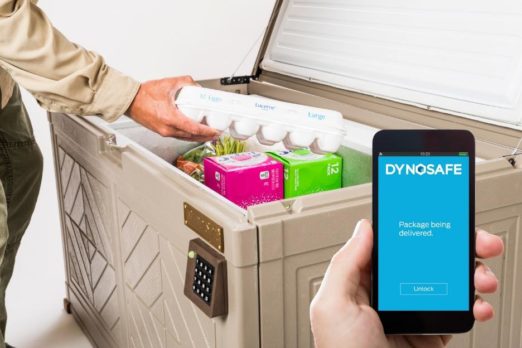 Dyno Safe inventor Rebecca Romanucci created this product and the software behind it to "own the porch." The Dyno Safe is a large , lockable safe for deliveries that sits on your front porch. Simply send a code to the delivery driver and they can unlock the safe, place your package inside and lock it up again. If your having food delivered, there are temperature controls as well.
The user operates everything from an app. Rebecca, who pitches Dyno Safe in Shark Tank episode 1220 with her husband Eric, holds four patents on the safe and the accompanying technology. The system is even prepared to interact with drones – when drone delivery becomes a thing. It bolts right to the porch so thieves can't take the whole box. If they try, a 120 decibel alarm goes off.
As of the original air date – April 2, 2021 – the safes are not available for sale. They're on "pre-order" status on the company website. Rebecca and Eric expect to sell the safes for $800-$1000. These kinds of safes are the future of online retail. One third of online shoppers have been victimized by porch pirates. The temperature controls also protect perishable groceries and medications and the safe protect everything from the elements. The Romanucci's likely want a Shark to help them get production started for those folks on the waitlist.
My Take on Dyno Safe
I've been a victim of porch pirates a couple of times. In both instances, the companies sent another item. That's not a sustainable business model. "Last mile" delivery solutions are the future. I am surprised Amazon hasn't come out with one yet.
I buy a fair amount of stuff online. Mostly fishing equipment, Shark Tank Products and food. My wife shops online too. As we've been victims of porch pirates, we'd probably get one of these. The refrigeration is good too as my wife gets a couple of prescriptions by home delivery. Someone is going to break out and "own the porch" someday, but will it be this business?
Do Sharks Lock Up a Deal?
The fact that the product is available for pre-order only makes me think they don't get a deal. There have been other instances where businesses literally launch after appearing on Shark Tank, but it's rare they do it with a Shark. If Rebecca and Eric are a true startup, perhaps a Shark will help them getting started.
The Sharks will know they're solving a real problem, but pre-revenue businesses usually don't get deals. The only thing that could possibly interest the Sharks is the patents. On the company Face book page, they have pictures of Mark and Robert and ask followers "do we get a deal?" They may make offers, but I'm sticking to no deal.