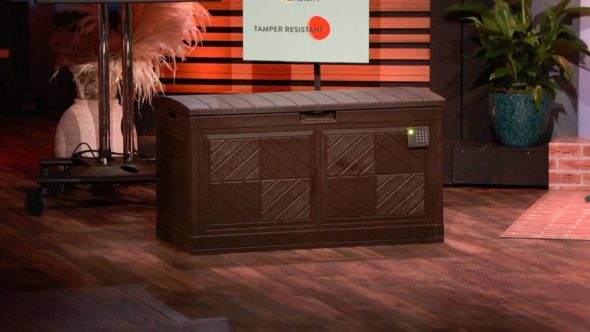 Eric and Rebecca Romanucci hope to seal a deal for Dynosafe, their climate controlled lockbox for home delivered goods, in Shark Tank episode 1220. Eric is surgeon and is also a Colonel in the US Army Reserve. He had 27 years in the military and earned a Bronze Star while serving in Afghanistan. Rebecca is a former nurse who invented the safes and started the business. She holds several patents on Dynosafe, including "AI interaction with robotic/electric delivery devices, vehicles, and drones."
The safes are essentially a way for people to securely accept deliveries at home. They eliminate porch pirates and, if food is being delivered, they can be set to a certain temperature. It all works from the patented app. Simply order online and put the special delivery code in the order's special instructions. The delivery person enters the code to open the Dynosafe and closes the lid, leaving the package safe from theft. You also set the temperature of the box with the app if you're ordering food for delivery. The app lets you know your delivery was made and everything is secure.
As of the original air date, the product is pre-revenue. They have a form on their website to sign on for their wait list. The original inspiration for the product was to help veterans suffering from PTSD. Some folks have issues with crowded stores and need their groceries delivered, so Rebecca created this product to help with that. Now, she wants a Shark to help bring it to life.
Company Information
Video

Posts about Dynosafe on Shark Tank Blog
Dynosafe Shark Tank Recap
Eric and Rebecca enter the Shark Tank seeking $150,000 for 15% of their business. They tell their story and explain how it works. They are currently in the prototype stage of development and they have a patent on the technology that operates it. There's also an interactive app, which intrigues some of the Sharks.
Kevin believes he can license the technology. He offers $150,000 for 40% of the business. Robert says he'll offer $150,000 for 25%, but he wants a seat on the board the authority to appoint other board members. Mark will also serve on the board. Eric and Rebecca agree.
Dynosafe Shark Tank Update
The Shark Tank Blog constantly provides updates and follow-ups about entrepreneurs who have appeared on the Shark Tank TV show. The deal with Robert never closed. As of July, 2022, the product is still available on a pre-order basis only on the company website. Eric and Rebecca say they are going to have relationships in place with "amazing partners" in 2022. In March, 2023, they are still offering the product on a pre-order basis only. The "amazing partnerships" have yet to materialize.