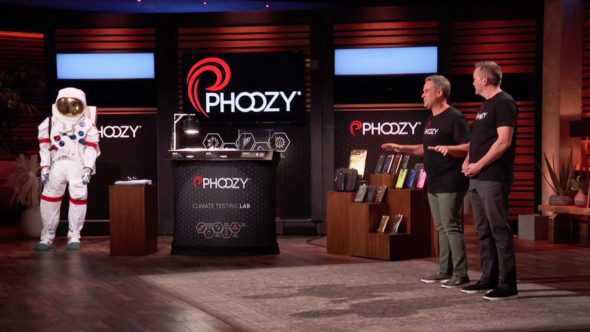 Friends and Phoozy co-founders Kevin Conway and Josh Inglis pitch their protective phone cases made from NASA space suit materials, in Shark Tank episode 1220. Conway, a former NASCAR Driver, missed an important call in 2016 because his phone overheated while on his boat. Kevin also admits he's left a few phones on the lake bottom in the past. He went looking for a koozy for his phone to protect it from heat and water and couldn't find one.
Kevin knew about the NASA Space suit material from his racing days – NASCAR drivers wear suits made from the same material. The cases  offer thermal protection (from heat and cold), flotation and drop protection. He got help with the prototype from some racing engineer contacts and he enlisted the help of his friend, Inglis, to form the company. Conway does most of the sales and marketing and Inglis, who quit his job as an executive at Home Depot to found the company, handles the business side of things.
Now they make a Phoozy for laptops, tablets and phones. As an added Covid-related benefit, they prevent germs too. Prices range from $34.99 for phone cases up to $69.99 for laptop cases. The cases come in a wide variety of colors and the have cases for virtually every mobile device. They sell a lot of product on Amazon and on their website. They likely want a Shark to help them grow into more products.
Company Information
Video

Posts about Phoozy on Shark Tank Blog
The Phoozy – A Koozy for Your Phone
Phoozy Shark Tank Recap
Kevin and Josh enter the Shark Tank seeking $500,000 for 10% of their business. They tell their story and give their pitch then hand out samples to the Sharks. Sales for last year (2019) were $1,500,000. They project $4.5 million in sales for 2020. The Sharks are really impressed when Kevin tells them he gave up his seat at LeMans to appear on the show.
Robert offers them $500,000 for 4% plus a $1 royalty until he recoups $500,000. Lori offers $500,000 for 4% plus a $1 per unit royalty until she recoups $1 million. When Kevin asks if Lori and Robert would team up, they agree. The two Sharks structure an offer of $500,000 each for 4% each with a $1.50 royalty per unit until they recoup their investment. Kevin then offers $500,000 for 2.5%  plus $1 per unit until he recoups $1 million. Lori pitches hard for her and Robert's offer and the guys agree.
Phoozy Shark Tank Update
The Shark Tank Blog constantly provides updates and follow-ups about entrepreneurs who have appeared on the Shark Tank TV show. The deal with Lori and Robert never closed. Kevin Conway reports a 400% increase in sales after their original air date. He also said he had major retailers calling him after the show. The company went on to introduce anti microbial Phoozies and protective Phoozies for laptops and tablets.
As of November, 2022, annual revenue is $4 million.