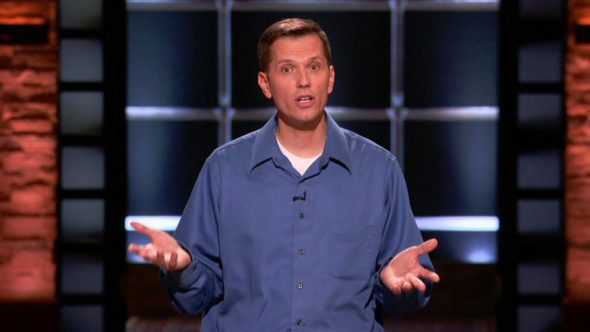 Merrick Maxfield presents the Probiotic Maker, his device that turns milk into probiotic yogurt right inside the jug, in Shark Tank episode 1220. Merrick and his wife and kids love yogurt. The problem was, it was turning into an expensive habit. The family went through 32 cups in two days, so they bought four yogurt making machines to save money. The problem was they were too slow and difficult to clean.
Merrick decided to look into other solutions. Probiotic yogurt is made by adding probiotic cultures to milk and heating it between 100 and 115 degrees until the milk thickens. Merrick decided he'd try heating the milk right in the gallon jug at 98.5 degrees and it worked. That's how Probiotic Maker was born.
The product looks like an odd sized heating pad. It wraps around any milk container to heat it for 8-9 hours. After heating, cool the yogurt in the fridge and it's ready to go in a few hours. What was first known as The Shake Genie was rebranded as The Probiotic Maker recently will set you back $97. Re-fills of culture cost $19 for a packet of 6 ($18 if you subscribe). Merrick likely wants a Shark to help him expand distribution.
Company Information
Video

Posts about Probiotic Maker on Shark Tank Blog
The Probiotic Maker – Easy Homemade Yogurt
Probiotic Maker Shark Tank Recap
Merrick enters the Shark Tank seeking $150,000 for 7% of his business. He tells how and why he created the product and hands out samples. The Sharks like the yogurt, but not the sales numbers. There are also concerns about the education curve for consumers. One by one, the Sharks drop out and Merrick leaves with no deal.
Probiotic Maker Shark Tank Update
The Shark Tank Blog constantly provides updates and follow-ups about entrepreneurs who have appeared on the Shark Tank TV show. On June 2, 2021, Merrick announced on his Facebook page that in the 6 week aftermath of the original airdate, he sold 5000 units – that's almost half a million dollars in sales. The first re-run of this episode on 7/23/2021 comes three months after the original air date. Not much more information is available at this time. I will update this page accordingly.