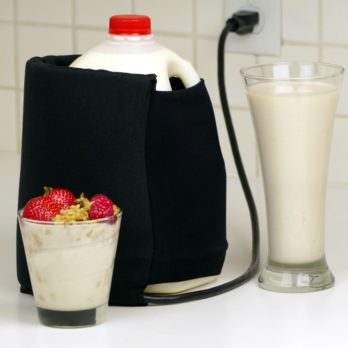 Merrick Maxfield invented The Probiotic Maker to save money. He, his wife and their 8 kids all love yogurt and they were burning through 32 cups every couple of days. It was an expensive snack habit. They tried commercially available yogurt machines, but they were very slow and hard to clean. He wanted a better, less expensive way to make yogurt, so he set out to do just that.
After 27 tries, he finally came up with a finished product that worked. It's a sleeve that fits around a milk container. Simply wrap the container with the sleeve, add probiotic "seeds" and plug it in. It heats the milk to a constant 98.5 degrees and in about 8 hours you have fresh yogurt for pennies on the dollar. He start the business in 2017. Originally called the Shake Genie, then the EZ Yogurt Maker, the product was recently rebranded as The Probiotic Maker.
The yogurt maker costs $97 and starter seeds cost $19 for a six pack. They're made right here in the USA from 100% recycled insulation and graphite. Merrick lost 24 pounds by eating his yogurt made with skim milk. Now that his machine is proven, he's not  losing money on his family's yogurt consumption! Maxfield has a long history of entrepreneurship that's included some epic setbacks. Lockheed Martin allegedly stole some lucrative contracts out from under him and General Motors sued his company, Urban Gorillas, for trademark infringement in a five year legal battle. Merrick hopes the Sharks will go a bit easier on him and invest.
My Take on the Probiotic Maker
I love yogurt. I've been eating a keto diet for a few months and I have to be very careful which yogurts I buy. A decent, keto yogurt is $1.49-$2 for a 4 ounce cup. That's going to cost me about $50 for the amount I'd get out of 1 gallon of milk. Cost with the Probiotic Maker: about five bucks. That is a significant savings.
For yogurt lovers like me, this machine is a game changer. The only issue I see is forgetting to unplug it and burning something. This could be the next appliance I buy for my house. It will pay for itself in a few weeks. I am IN.
Will Sharks Like This Yogurt?
In one of the clips for this product, Robert is seen tasting it and making a face. Perhaps he sampled some kefir, a more tart and yeasty flavored drink than yogurt. You can also make kefir with this machine, buut most people prefer the taste of yogurt which is smoother.
My initial thought is this is a Lori product. There are tens of millions (if not more) yogurt lovers out there who'd love an inexpensive alternative to store bought brands. The simplicity of the device is appealing too. I think if any Shark makes an offer, it will be Lori, otherwise Merrick is out of luck.