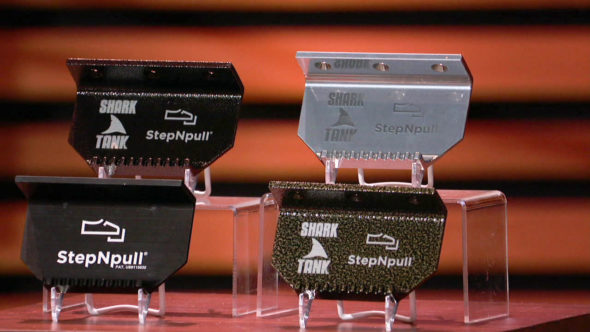 Step N Pull inventors Mike Sewell, Ron Ely and Kelly Coddington never imagined what would happen to their business in 2020. The three men, friends since the 1990's, invented the product when Ron brought the idea up in 2007. He noticed people at his workplace using paper towels to open the swinging bathroom doors, often littering the floor with them. He designed (and patented) a simple L shaped aluminum gadget that, when screwed to the bottom of the door, allowed people to pull the door open with their foot.
The three men made the product in the garage and shipped everything from there. They gradually grew the business to an international level, earning a nice second income for each of them. Then what Sewell describes as a "nuclear bomb" hit their business: the Covid-19 pandemic. In March of 2020, the company sold more product than the previous 13 years combined. 
Needless to say, that created some excitement and some logistical issues. They manufacture Step N Pull in a factory in Missouri from 70% recycled aluminum. The increased orders caused them to bring on another factory quickly as major corporations, universities, public buildings and just about any  other entity with swinging doors was placing orders. They were getting orders from all over the world. Part of the reason is it's inexpensive (less than $20 in bulk) and it installs in five minutes. These guys likely want a Shark's help managing the explosive growth.
My Take on Step N Pull
I was an amateur germaphobe before the pandemic.  I do the paper towel thing on door handles, but I don't litter. Opening a door inwards with my foot is standard procedure too. Now that I've graduated to being a professional germaphobe, I still do this, but I'd like it if I could use a Step N Pull instead of paper towels.
This product is an example of a company having the right product for the times. I bet these guys never imagined what would happen to their business back in 2007 when they first started. The one thing they'll have to watch for is knock offs, but maybe a Shark will help them with that.
Will Sharks Step In and Invest?
I think when the Sharks hear their 2020 sales they are going to flip out. Expect a feeding frenzy of multiple offers. Lori has manufacturing connections in the hardware business, as do Robert and Kevin. Daymond and Mark will want in on the action, too.
I expect a slightly unreasonable royalty offer from Kevin to start things off, then the feeding frenzy is on. Sewell will get a Shark tonight, it's a matter of which one makes the best offer.