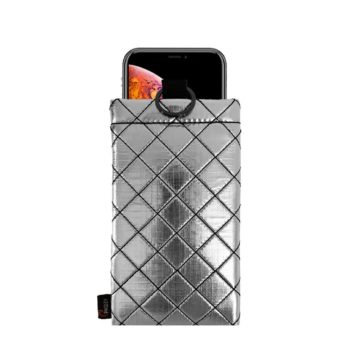 The Phoozy came about with a collaboration between a race car driver, a corporate executive and some rocket scientists. After missing an important call due to an overheated phone while boating, NASCAR driver Kevin Conway went searching for a product that would act like a koozy for his phone. When he couldn't find one, he decided to invent one.
He sought out some friends he'd made at NASA. Apparently, NASCAR drivers use thermally protected suits similar to space suits. Conway decided to make his phone koozies out of the material and The Phoozy (phone + koozy) was born. Conway enlisted the help of his old friend Josh Inglis to start the company. Inglis liked the idea so much, he quit his job as Director of Marketing Analytics & Attribution at Home Depot to co-found the business.
The Phoozy prevents your phone from overheating or getting too cold. It's also waterproof and it floats so you won't lose it if you drop it in the lake (as Conway confesses to doing). The first products were just for phones, Now, they make Phoozies for any laptop, tablet or phone. My guess is they want a Shark as a "strategic partner" to help them grow the business.
My Take on The Phoozy
I do a lot of fishing and the overheating phone is a real problem. Since phones these days cost a lot of money, I also fear dropping mine in the drink, so water proofing and flotation is a good thing. Whether these elemnts could have been accomplished with other materials or not, the space suit material angle is a fun selling point.
I called my uncle who worked on developing the first space suits at Natick Labs in the 1960's to get his take on this product. He told me some wild stories. Apparently, in the Vietnam era, would-be soldiers could avoid combat duty by being test subjects at the lab. One group of subjects were assigned to space suit training. They wore the suits while the scientists hit them with extreme cold and heat. He told me that it would absolutely work with a phone too. I may have to get one for fishing.
Will Sharks Make the Case for a Deal?
This is a company that begs the question "why are you here?" The answer is, they applied. In fact, they applied in 2018 and never heard back from the show. In January of 2020, they applied again and got an immediate response. While they have broad distribution at Home Depot, Lowes, Ron Jon, REI and Amazon, they're still growing.
When I make these predictions, I base it on my past knowledge of the show, looking at companies' social media and web presence and reading news stories about companies. In one news story about The Phoozy, Conway states:
 "We've bootstrapped this company from the very beginning, so it's huge to be able to have a platform with the size and reach of 'Shark Tank' to bring awareness to the brand and product."
The idea of bringing awareness strikes me as a statement from someone who doesn't get a deal. I think it's a great product and I bought one as I wrote this post. I think the Sharks will like the product too, but Conway and Inglis don't need a Shark. They'll do fine without one.