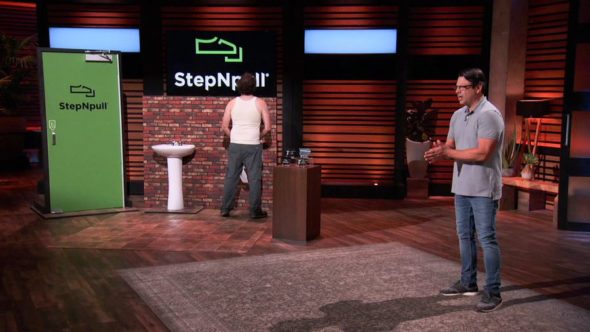 Mike Sewell introduces the Sharks to StepNpull, a product that lets you open swinging doors with your foot, in Shark Tank episode 1220. Mike, along with friends and partners Ron Ely and Kelly Coddington first met at work in the 1990's. In 2007, Ron – now at another job – noticed people using paper towels to use the handles of the bathroom door. He thought about it and figured a foot operated door opener would quell the spread of germs and prevent paper towel waste.
He enlisted the help of his friends to design the first prototype and they began manufacturing and shipping out of the garage. Business grew slowly but steadily and it was a side business for the three men. They grew by selling to large companies and international distributors. Then Covid-19 hit. Because of increased awareness about viruses on hard surfaces their business exploded. In March, 2020 they had more orders than the previous 13 years combined!
The patented product itself is fairly simple. It's an L-shaped, extruded aluminum item that screws to any commercial, swinging bathroom door. This lets you pull the door open with your foot instead of the handle and reduces the chance of spreading germs through contact. Think about it – many bathrooms have contactless flushing, sinks and towel dispensers, now the door can be contactless as well. They come in a variety of colors to match décor and they are selling by the gazillions to large institutions, airports, big corporations and just about anywhere there are bathroom doors. Consumers can get them at Home Depot, Lowe's and Amazon. They likely want a Shark's help managing their explosive growth.
Company Information
Video

Posts about StepNpull on Shark Tank Blog
Step N Pull – Hands Free Door Opener
StepNpull Shark Tank Recap
Mike enters the Tank, seeking $300,000 for 3% of his business. He has an actor pretending to pee onstage then the actor leaves the "restroom" and uses the handle to open the door. Mike then shows how his product works and hands out samples. It turns out the Covid-19 pandemic was a big sales booster for the patented device. With about $35,000 in previous lifetime sales, March 2020 sales were $1.7 million! Sales year to date (mid 2020) were $7 million. Each unit costs $8-$9 to make and sells for $29.95.
The Sharks love the margins and numbers and the offers start rolling in. Kevin offers $300,000 for 10%. Daymond offers $300,000 for 12%. He says Kevin doesn't bring anything to the table. Daymond says he can bring production costs down and he'll seek a partnership with the International Door Association to make the StepNPull standard on all commercial doors. Lori wants to sell to consumers via an infomercial. She offers $300,000 for 5% plus a 50 cent royalty until she recoups $500,000, then she wants 20 cents per unit in perpetuity. Daymond drops from 12% to 8%, then Lori goes out. Mike asks if Daymond will go to 7% and Kevin says he'll do it. Kevin says he'll go to 6% and Mike does the deal with Kevin.
StepNpull Shark Tank Update
The Shark Tank Blog constantly provides updates and follow-ups about entrepreneurs who have appeared on the Shark Tank TV show. As of July, 2021, the deal with Kevin has not closed. The first rerun of this episode is three months after the original air date, so the parties may still be negotiating. Mike later revealed the deal with Kevin never closed.  In November, 2022, revenue for the year is $1.7 million.
I will update this page accordingly.