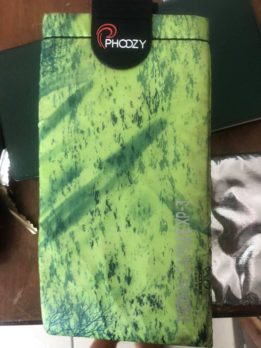 The good folks at Phoozy sent along some product for a Phoozy review. When I write about companies that appear on Shark Tank. I have to do a little research. When I heard Phoozy inventor Kevin Conway's story about phones at the bottom of the lake he fishes in and phones melting in the sun, I empathized. I lost one phone over the edge at my local fishing pier once, Luckily, it was in a Lifeproof waterproof case, so it wasn't damaged. My other phone literally cooked on my lanai last summer. I left it on the table and went inside to do something. About three hours later, I went to get it and it wouldn't turn on. I took it to the store and the guy there said I wouldn't be able to fix it. Result: new phone.
So when I learned about the Phoozy, I bought the Apollo Series in spacesuit silver, pictured below. These are $29.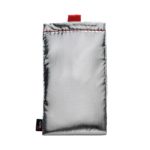 The one they sent me for the Phoozy review was the top of the line XP3 Thermal. That's it at the top of the page. Those are $49. It has a strap for attaching the Phoozy to a boat or just about anything. It also has a little separate pouch inside for cash, license or credit cards.
The Phoozy Review: It Works!
I go fishing every weekday morning at our local fishing pier and I bring my phone (to take pictures of all the fish). You are in direct sun the entire time and phones can really heat up. I used to keep my phone in my cooler in a Zip Loc bag, but I'd sometimes miss calls. Not that I really want to talk to anyone on the phone while I'm fishing, but you know…
The Apollo doesn't have the Velcro strap to attach it to anything, but it has loops at the top that I used a carabiner clip to secure it to my tackle box or cart. The XP3 has the Velcro straps and I took it out on a charter trip a few weeks ago. I had it strapped to the transom all day and it was fine at the end of the day to take pictures of our fish.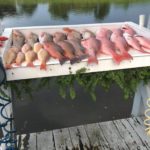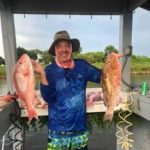 That particular day, we went through a pretty nasty rainstorm on the ride home (we were 65 miles out in the Gulf of Mexico) and everything got wet, except my phone. I do a lot of fishing with a buddy of mine on his boat and the Phoozy is a standard now. It's good to have your phone cool and dry to take pictures of the catch!
Let's face it, smart phones are expensive. My iPhone costs more than my first car – which was $600. I want it protected. I used to use Lifeproof cases, but they didn't last long. Now I have an Otterbox and a Phoozy. If you do ANYTHING outdoors- hiking, boating, fishing skiing or just laying on the beach, the Phoozy is a must have accessory for your phone. Plus if you leave your phone in a hot car – an issue here in Florida – it will protect it. Click HERE to purchase.
Check out my video review:
*I only review products from Shark Tank I actually buy and use. I'd like to say thank you to the folks at Phoozy for the freebie, but it didn't influence my review. I bought one before I did the review. In hindsight, I'd go for the $49 model, but they both work.