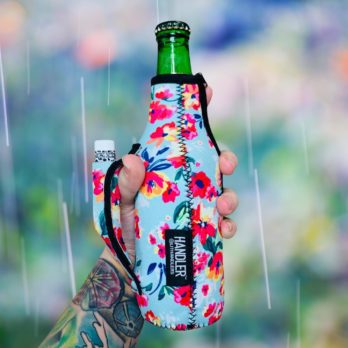 Shark Tank Blog is doing a Lit Handlers contest! We haven't had a contest here for a number of years, but they are coming back and we'll be doing more throughout the summer and season 13. If you recall, Lit Handlers appeared on the season 12 finale episode of Shark Tank – episode 1222. The products are varying sized, neoprene koozies with handles that have pockets in them.
The company also makes back packs, lunch totes, fanny packs and more. There are dozens of varieties of Lit Handlers too. They have them for every size beverage container out there whether it's a can of beer, cup of coffee or bottle of wine. The pockets and handles just make this koozie a bit "extra." Shark Tank Blog thanks Destiny and her team for providing this opportunity to our readers.
I originally contacted this business about having a Lit Handlers contest shortly before they aired, but the Shark Tank effect delayed their response – they were swamped with orders. If you recall, company owner and founder Destiny Padgett wowed the Sharks. They called her a "wolf in sheep's clothing." Robert, Mark and Lori felt Destiny was doing fine on her own, but Daymond and Kevin made offers. She eventually went with Daymond's offer of $200,000 for 20%.
Lit Handlers Contest Rules
Destiny has agreed to offer a Lit Handler for 5 lucky Shark Tank Blog readers. For people who subscribe to Shark Tank Blog, all they have to do is reply to an email I'll be sending them. If you don't currently subscribe, head on over to the top right hand side of this page and sign up. All new subscribers will be entered into the contest automatically. I will pull 5 winners on Monday, June 14, 2021 and notify winners by email. At that point I would need a reply with shipping information. That's all there is to it!