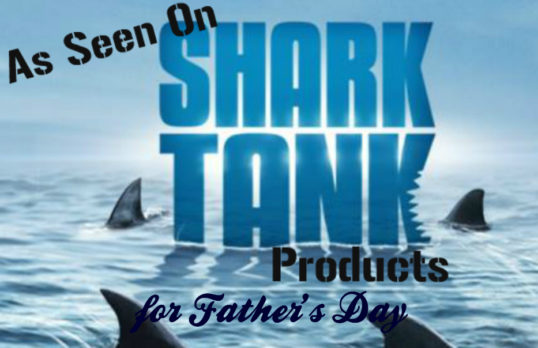 These 12 Shark Tank Father's Day Gifts will blow any father away, whether he's a Shark Tank fan or not. Father's Day is just around the corner, so make sure you get something for dad now! All 12 of these gift ideas are products I own and have used. I NEVER recommend anything unless I've tried it first.
Potato Parcel is a fun alternative to sending a Father's Day Card. This quirky business Kevin O'Leary invested in during season 8 will send a potato with a message on it anywhere in the world. You can customize it further with photos and other bling.
Q-Flex is a great gift for dads who like a massage. This season 6 business that cut a deal with Mark and Barbara makes a product that lets you apply acupressure anywhere on your body all by yourself. It's great for loosening up tight muscles.
Fizzics is perfect for the dad who likes his beer. This season 8 business did a deal with Lori and Mark. The machine uses ultrasonic waves to make a foamier head on your beer which enhances the flavor.
Bottle Breacher is the company that makes bottle openers out of 50 caliber bullets. This season 6 business did a deal with Mr. Wonderful. They can even personalize their openers.
Mighty Carver is for the dad who is the king of the carvers when there's a turkey, chicken or roast to be cut. This season 12 company did a deal with Daymond. If you recall, it's an electric carving knife shaped like a chainsaw!
Shark Tank Father's Day Gifts: Socks
One of the best Shark Tank Father's Day Gifts you can give is a cool pair of socks. Two companies that were on the show make awesome socks.
Bombas is a company Daymond invested in in season 6. They make very comfortable athletic socks in a wide variety of colors and patterns. This company also has the distinction of being the most successful Shark Tank company in history based on total sales.
Foot Cardigan is the sock subscription box that sends socks to dad every month. You can also order them one pair at a time. What makes these socks so cool is they always have new, fun, bright and quirky designs every month.
More Ideas
Pick Up Pools is perfect for the dad with a pick up truck. When it gets hot out, he can turn his truck bed into a pool!
Butter Cloth is a business that Robert invested in in season 10. They claim to make the world's most comfortable shirt. I can tell you from experience, it's a tough claim to dispute!
Fishing Related Gifts
If you have a dad who likes fishing, these last three Shark Tank Father's Day Gifts are sure to please.
Phoozy is a company that did a deal with Lori and Robert in season 12. They make a "koozy for your phone" from the same material NASA makes space suits from. While technically not a fishing product, I always bring mine with me when I go fishing to protect my iPhone from heat and water.
Tactibite is an electronic fish call. It mimics the sounds of fish in distress to attract predatory fish. While they never did close their deal with Robert, I have never been skunked when I use mine!
Line Cutterz is quite possibly the best accessory a fisherman can have. It's a ring that has a small blade for cutting fishing line. There's a second ring that acts as a hook holder for when you are tying a knot. They make fishing line so much easier to deal with, particularly on a boat.
So there are my suggestions for you. Of course if you want to look for other gifts, you can shop HERE.