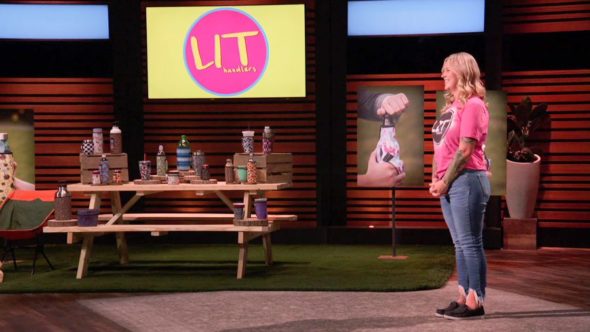 Destiny Padgett hopes to handle a deal with a Shark for Lit Handlers, her line of custom Koozees, in Shark Tank episode 1222. What makes these "the Littest Handlers and Koozees" is they have a little handle on the side with a pocket for holding a lighter, Chapstick, cash or other small item. That is LIT!
The young entrepreneur graduated BYU Pathway – an online college – in 2012 and started the business in 2016. Originally called LITcancoolers, she changed the name to Lit Handlers when she developed the patent pending koozees with handles. They sell on her website and on Amazon.
The Handlers are made from 3mm neoprene – the same stuff they make wet suits out of. She also makes back packs, lunch totes, fanny packs and more. The website has a lot of stuff on it. There are Lit Handlers for everything from a cup of coffee to a bottle of wine and everything in between. You can figure out which one you need with her sizing chart. They come in dozens (if not hundreds) of wild designs and colors and range in price from $4.99 for the smallest koozee to $69.99 for a large backpack. Destiny likely wants a Shark's help with manufacturing and inventory.
Company Information
Video

Posts about Lit Handlers on Shark Tank Blog
LitHandlers – The Littest Handlers Around
Lit Handlers Contest – Win a Lit Handler
Lit Handlers Shark Tank Recap
Destiny enters seeking $200,000 for 10% of her business. She gives her pitch and tells her story, then she hands out samples. The Sharks, as always, want to know the numbers. So far this year (this taped in 2020), she has $630,000 in sales and should finish the year at $780,000. She says she wants a Shark to help with licensing so she can grow the business.
Mark, Lori and Robert go out because they think she's already on the right track and doing well. Kevin offers $200,000 for 20% of the company and Daymond offers $200,000 for 25%. Next, Kevin ups his percentage to 25%, forcing Destiny to choose between the 2 of them. Then Daymond tells her he'll do 20% if she says yes right away. She does and the deal is done.
Lit Handlers Shark Tank Update
The Shark Tank Blog constantly provides updates and follow-ups about entrepreneurs who have appeared on the Shark Tank TV show. The week before they aired, heavy rains caused flooding in Texas and their warehouse flooded. Luckily, no product was damaged. The deal closed with Daymond as of July, 2021, and there is a Facebook post of the Lit Handlers team "celebrating our deal." As of August, 2022, she hasn't done any licensing deals, but she added 18+ "explicit" handlers. By February, 2023, they've added handlers for ice cream and wine. Annual revenue is right around $1.2 million.