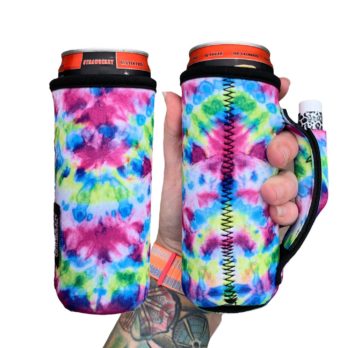 The timing of bad weather for LitHandlers creator Destiny Padgett couldn't be worse. She's on the season 12 finale of Shark Tank and it's raining in her hometown of Buna, Texas. It's raining so hard, her warehouse flooded! It looks like no inventory was damaged, but they still had a lot of water to clean up and they didn't ship any orders for a few days. She's lucky that didn't happen after the show aired or she'd really be behind the 8 ball.
LitHandlers are neoprene koozies with handles. The handles have a little pocket in them for storing small items. Lit Handlers come in a wide variety of designs, colors and sizes. Padgett even has a sizing chart on her website so you get the right Handler for your beverage of choice. She started the business in July 2016. Back then it was called Lit Can Coolers, but she rebranded to Lit Handlers a year later.
In addition to the wide variety of Koozies, the company sells back packs, lunch totes, fanny packs and more. They ran out of back packs before the start of the 2020-2021 school year. While the present weather related delays may have disrupted the business temporarily, the company managed to grow during the Covid-19 pandemic. While she has a small staff that helps her – including her 10 year old daughter – she likely wants a Shark's help with growing inventory so she needs a bigger staff. She might want help with flood insurance too!
My take on LitHandlers
My first thought when I saw these was "OMG, not another koozie." But once I started looking around her site, I realized these weren't "just another koozie." They come in a variety of sizes depending on what you're drinking. Whether you like White Claw in a skinny can, regular sized beer cans, 16 ounce bottles or even bottles of wine, there's a Lit Handler for you.
The other cool thing is the handle. It lets you hold a beverage like a mug. The pocket with a handle is patent pending. Her warehouse looks packed based on some videos on her Facebook page. The one thing I don't like is the word "lit." My 16 year old daughter and her friends say it all the time, as in "that is so LIT!" Meaning "that is so awesome." It drives me nuts. We've been spending some time together lately working on another website and when I showed her LitHandlers, well, you know what she said. SMH.
Will Sharks Get Lit and do a Deal?
The Sharks will likely have the same initial reaction as me, but I think, like me, they'll get beyond it. The availability of different sizes makes it different from other koozies. The patent helps, too. I think Destiny will see multiple bids. Lori may bid since it's a visual sale. Robert and Mark will like the direct to consumer approach. Mr. Wonderful and Daymond will too.
I wouldn't be surprised if all five Sharks made a play for Lit Handlers. Expect a royalty offer from Kevin and a somewhat Sharky offer from Robert. I don't know what Shark wins this one, but you can bet Destiny does.