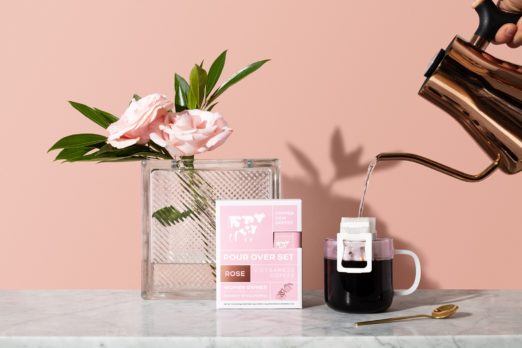 Debbie Wei Mullin created Copper Cow Coffee so she could enjoy her favorite drink: Vietnamese Coffee. Debbie's grandmother came to the USA in 1975, around the end of the Viet Nam War. Debbie grew up enjoying traditional Vietnamese food and drinks; her favorite was/is Vietnamese Coffee. This coffee uses Robusta beans grown in Vietnam. Robusta coffee beans are nuttier and a little more bitter than the more common (in the USA) Arabica beans. When making Vietnamese coffee, you're supposed to add a little sweetened, condensed milk to offset the bitterness of the Robusta beans. The result is a rich and satisfying cup of coffee.
A lot of people like Vietnamese coffee, but they don't like buying the condensed milk. Robusta beans have a lot more caffeine than Arabica beans, so people only tend to have one cup at a time. Copper Cow is 70% Robusta and 30% Arabica and has nearly twice the caffeine of a coffee shop cup of coffee. People tend not to drink as much, so they don't use a lot and end up wasting the milk. Debbie soled that problem. Copper Cow makes single serve packets of coffee complete with a packet of condensed milk and a coffee filter. Just boil water, pour it over the filter, add the milk and you are good to go.
Debbie honors her Vietnamese heritage by sourcing her coffee beans from Vietnamese coffee farms that use sustainable farming practices. She pays her farmers twice the market price so they can have a higher quality of life. All her farmers use organic agricultural and processing methods with no chemicals or pesticides. Debbie likely wants a Shark's help with inventory and retail store acquisition. Will Sharks like this coffee?
My Take on Copper Cow Coffee
Back when I had an office job in downtown Boston right near China Town, a co-worker introduced me to a small Vietnamese café. We'd go there for Pho and Bahn Mi sandwiches for lunch. After every meal we'd have a cup of this kind of coffee. It is very good. I haven't had any since those days.
Copper Cow makes the coffee accessible and convenient. At three bucks a cup, it's like going to Starbucks or Dunkins, but you can't get this kind of coffee there. I'm going to get a five pack to try out. I'll let you know how it is. I'm in.
Will Sharks Drink Up and Invest?
If Debbie does a deal with a Shark, I don't think it closes. Since this was filmed in the summer of 2020, her story was likely a little different than it is today. In 2020, she saw her hospitality, office and wholesale channels go to zero. She successfully pivoted to direct to consumer eCommerce and focused on acquiring more shelf space in grocery stores.
Now, she's in over 3,000 stores, including Whole Foods Market, Sprouts, and Walmart. That was not the case when this taped. She also ended thee year with over $7 million in sales. That may have been an unknown at the time of taping.
On May 4, 2021, a PR Release indicated the company got $8.5 million in venture funding to "fund the company's expanding distribution and product innovation." So even if she does a deal on air, which she may, it never closed. Companies typically don't do venture funding like this when a Shark is involved.