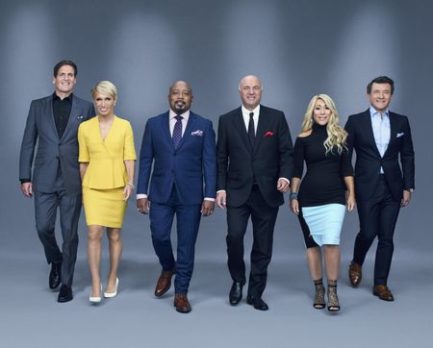 ABC has formally announced Shark Tank Season 13. They previously announced the air date of the first episode, Friday October 8, 2021 at 8 PM eastern, but did not provide details until today. The six regular Sharks will return along with recurring guest Shark Daniel Lubetzski. New guest Sharks for Shark Tank season 13 are: Kevin Hart, Actor, Investor and Entrepreneur; Emma Grede, CEO and Co-Founder of Good American and Founding Partner of SKIMS; Peter Jones, Dragon on BBC's Dragon's Den; and Nirav Tolia, Co-Founder of Nextdoor.
This is an interesting lineup. Peter Jones is kind of like the "Mr. Wonderful" of Dragon's Den, so he'll bring some feisty moments to the Tank this season. Emma Grede is the first woman  of color to be on the panel. Nirav Tolia is the second Shark of Indian descent. Kevin Hart is plain old batshit hilarious, so his segments will be interesting. It looks to be another good season.
Shark Tank Season 13 Filming
Chatter on social media indicates the Sharks were filming in July and August this year. From the looks of things, it appears they are back in their California studio. Last season (filmed in 2020), they filmed in a bubble in Las Vegas due to  the Covid-19 pandemic. Sharks, crew and entrepreneurs had to quarantine for 14 days inside the Venetian resort where they set up strict protocols.
Whether they did that this season or not, I don't know. What I do know is where I will be Friday nights at 8! Last year, the show got its highest ratings in its history. Shark Tank OWNS Friday nights. We can expect 24-26 episodes to be aired. They frequently announce the number of episodes at the beginning of the season then add an episode or two that was "in  the can" as the season progresses.
One thing is certain, it will be another year of brilliant businesses, complete train wrecks and tear-jerking moments. Shark Tank Season 13 is almost here!