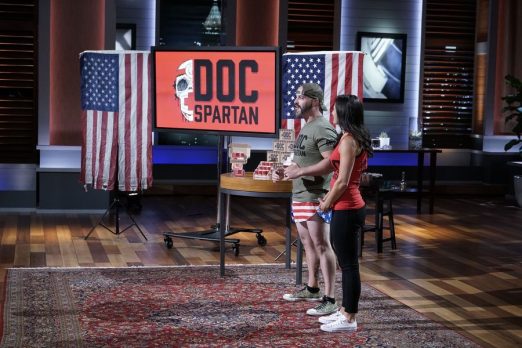 Renée Wallace and Dale King hope the Sharks like Doc Spartan, their line of all natural first aid ointments, when they pitch the panel in episode 816. The two friends met at Dale's crossfit facility, PSKC CrossFit. Dale is an Operation Iraqi Freedom veteran and Renée is married to a former military helicopter pilot. One day, Dale asked Renée, a mother of three, to make some ointment for the folks at the gym that could double as first aid for cuts and scrapes "in the field."
The signature product in Doc Spartan's arsenal is their Combat Ready Ointment. It heals cuts and scrapes that can occur when working out or from just doing plain, old hard work. Combat Ready ointment comes in a big tin, a chapstick-like dispenser, or in a roll-on deodorant-like dispenser. You can get all three together in  the "Triple Threat" package, too.
Doc Spartan expanded to include other products like all natural deodorants, soaps, scrubs, and beard care items. All their products are all natural blends using coconut and other essential oils. Pricing on the products is moderate and they are available online at Amazon, on the Doc Spartan website, and through select retail locations. Dale and Renée probably want a Shark's help expanding their retail reach.
Will a Shark go all Spartan and invest?
Doc Spartan Shark Tank Recap
Renée and Dale enter the Shark Tank seeking $75,000 for 15% of the company. Dale asks the Sharks how many times they've cut themselves. He even asks Kevin about paper cuts from counting $100 bills! They explain Doc Spartan is a fast-healing, natural first aid ointment. Dale proceeds to hand out samples as he jokes with the Sharks.
They tell the story of how they first made their product. When Robert asks how it works, Dale shows before and after pictures of a cut and the Sharks are impressed. They tell Robert they'd like to see their product in the first aid aisle in stores. So far, they've only sold it in some gyms, tattoo shops and online. A tin of ointment cost $0.95 to make and retails for $9.99. So far, they've done $56,000 in sales in 11 months.
Lori finds the packaging confusing. Mark thinks they haven't done enough research and quickly goes out. Daymond says Lori knows more than the other Sharks about testing and claims; he doesn't and he goes out. Lori repeats concerns she has and goes out too. Kevin says he likes the product, but it isn't "investable," so he goes out too.
Robert likes the product and Dale & Renée. He offers $75,000 for 25%. Dale counters with 20% but Robert says no. Dale counters with an offer that Robert buys the first beer if they accept. Robert agrees and they do the deal.
Doc Spartan Shark Tank Update
The Shark Tank Blog constantly provides updates and follow-ups about entrepreneurs who have appeared on the Shark Tank TV show. The deal with Doc Spartan and Robert closed. Following the original air date, they sold over 4000 units in a week. With Robert's help, they are working on getting their products into PX stores on military bases. They are attending many trade shows too. They've enhanced the line of personal care products and vastly improved their Amazon storefront.
They get an update segment in season 12, episode 1214 where they reveal their commitment to employing people in recovery from drug addiction. In May, 2022, the company is still in operation and has $4 million in annual revenue.
Posts About Doc Spartan on Shark Tank Blog
Doc Spartan Company Information
Video