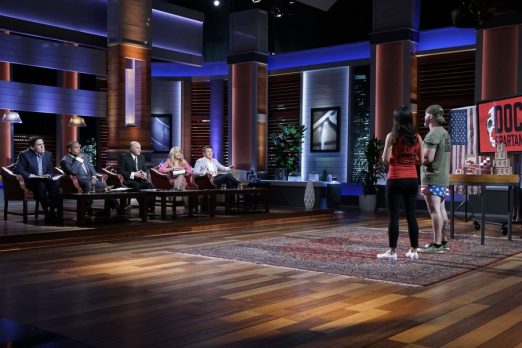 Renée Wallace and Dale King created Doc Spartan Combat Ready Ointment as a salve to heal cuts and scrapes "in the field." Dale wanted something that soldiers could use to heal minor wounds while deployed and cross fit athletes could use to keep on training. Hands get blistered, cut, and scraped from all kinds of activities, and healing quickly is important to get full use back after injury. Combat Ready Ointment does the trick.
The entrepreneurial pair didn't stop at the ointment. They expanded their line to include soap shaped like a grenade, deodorants, scrubs, even beard care items. They sell online at Amazon and are starting to get some traction. They'll pitch their business to the Sharks in episode 816 – the "American Heroes" episode.
All Doc Spartan Products, including Combat Ready Ointment, are organic and made from all natural ingredients. They're clearly trying to appeal to folks with a military focus as their branding is heavy on military analogies. Mr. King is an Iraqi war vet and Mrs. Wallace is married to a former military helicopter pilot, so that comes as no surprise.
The key to their success is getting their message out. Lots of people, whether they're serious athletes, soldiers, or just everyday folks, tear up their hands. A good product that heals the hands quickly is something everyone will need at one point or another. If they can sell Combat Ready Ointment, people will likely buy some of their other products. At least that's the message they should deliver to the Sharks.
My Take on Combat Ready Ointment
I am remodeling a home. I just finished with the demolition stage of the project. Part of that meant pulling up old carpet and scraping away carpet pad that became fused to the terrazzo flooring beneath. This took about three days. By the end of the three days, both hands were blistered and cut. It was uncomfortable to work while they healed.
If Combat Ready ointment really works, I could have used some! There are dozens of commercially available products that do the same thing as Doc Spartan, so they're entering a crowded field. A product like this needs to be on drug store shelves because people like me won't go looking for it until they need it. They'll need a Shark to help them get into the Walgreens of the world to get true market penetration.
Will Sharks help heal this Business?
Combat Ready Ointment is a solid product, and Doc Spartan is working to offer complementary products, but will the Sharks see any value. Strong sales is a good starting point. If they have good, growing sales, they could garner some interest.
In season six, Robert invested in The Natural Grip, a product that prevents injuries to hands while working out. The company owner is a military veteran, just like Mr. King. There is some synergy between the two businesses, so Robert could float an offer. People who buy the Natural Grip will also want a product like the Combat Ready Ointment and those customers are already buying. If he sees an opportunity for the two businesses to work together (a trend on Shark Tank in season 8), expect him to jump in.
I'm not sure if any other Sharks bite on this, so Renee and Dale better hope Robert gets involved.