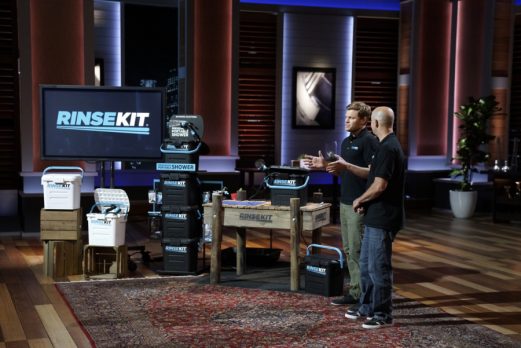 Chris Crawford created Rinse Kit because he wanted an easy, portable way to clear sand off his body. He liked to go surfing before work and he didn't want to bring the beach to the office with him. Chris made the first RinseKit for himself and when people started asking him about it, he decided to start a business producing his portable shower. Chris, along with partner Eric Fagan, bring their product into the Shark Tank in episode 814.
With over $800K raised on Kickstarter and IndieGoGo, they have solid proof of concept under their belts. The Rinse Kit is basically a box that holds pressurized water from a garden hose of household sink. When you need to clean up, just shoot the nozzle at yourself and rinse off. It stores water at room temperature, but there's a hot water model, too.
Accessorizing your Rinse Kit is simple. With the hose and sink adapters, you can fill her up from anyplace in your house. A bike pump-like device lets you pressurize it in the field. They market the product to outdoorsy types: boaters, campers, beach lovers etc. You can buy the product on Amazon or at REI stores. They likely want a Shark's help with production and expanding their retail footprint.
My Take on Rinse Kit
We own a product called the Sun Shower. It's basically a bag with a hose and shower head at the bottom. The bag holds up to 5 gallons of water and the silver and black color absorbs sunlight to give you a warm shower on the go. At $35.99, it's less than half the cost of a basic Rinse Kit – plus it holds more than twice the water. It's pressurized by gravity – you hang it on a tree branch or anything else, open the spigot, and rinse (or shower) away.
The Rinse Kit is a bit more High Tech than the Sun Shower, and its hard shell makes it more durable. At a two gallon capacity, it's lighter, too. There's a bit more science to the product: Crawford used his smarts as a swimming pool contractor to figure out how to keep it pressurized. For outings at the beach, where tree branches might not be available, the RinseKit is a winner.
Will the Sharks Like It?
The best thing Rinse Kit has going for it is their crowdfunding success. Raising over $800K shows demand. Crawford used that success to build a company and now has a lot of product in stock. The only thing that could derail this pitch is some sort of financial skeleton in the closet.
This is a product any one of the Sharks could bid on. Lori will like the demonstrable aspect, Daymond and Robert are both outdoor types who'll like the utility, and Mark and Kevin will like the numbers. There may be a Shark fight for this one. Crawford better hope he has enough pressure in his Tanks to hose down the Sharks!