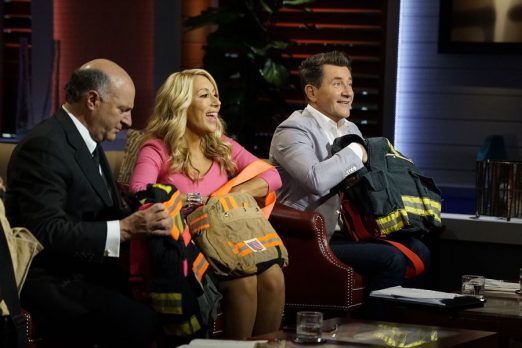 Niki Rasor made her first of her Fire Fighter Turn Out Bags (FFTOB for short) out of a pocket from her husband, Matt's, fire fighter jacket. Those big jackets firemen wear are known as turn out gear and they get replaced every 10 years (sooner if they wear out). Matt wanted a pocket removed from his jacket, so Niki decided to re-purpose it into a hand bag. When people started asking where she got it, she set up shop in the family garage and started a business.
They say imitation is the sincerest form of flattery, and Niki is very flattered that several other companies are knocking her idea off. Despite that, she's the originator of Fire Fighter Turn Out Bags and she ships them all over the world. The bags are durable and rugged, what you'd expect from a fire fighter.
Matt is still a full time fireman and that connection keeps Niki in raw materials. She'll even do a custom bag for anyone who supplies her with the proper materials. A worldwide presence is nothing to sneeze at, but Niki probably wants a Shark to help her make more sales. Whether that's through retail or an enhanced web presence, a Shark can turn out sales.
My Take on Fire Fighter Turn Out Bags
I like the sustainability of this business. Niki takes materials that would get thrown away and makes something useful out of them. But does the world need another Man Pack, duffle bag or hand bag? My opinions aside, it appears the world wants it.
The styles aren't frilly – they're durable and rugged looking. If you like a bag that takes a beating, these are probably for you. They look like they'll last a long time. Niki has a lot of positive press for her business, too. three years ago, she launched a failed Kickstarter, but that was before word got out about her products – maybe she should try it again, if she can't get a Shark to bite!
Will Sharks Turn Out and Invest?
Once again, strong sales will make or break this pitch. There's an interesting coincidence with this pitch. In the same episode, R Riveter, the company that makes bags from old military gear, has an update segment. Mark Cuban invested $100K in R Riveter last season. Fire Fighter Turn Out Bags is a similar business, but with different raw materials. If Cuban sees a quality entrepreneur in Niki, he could plug her concept into the R Riveter "social action network."
Mark might think she competes with R Riveter, but other Sharks could bite. If Lori likes the bags, she could pitch them on QVC; fire fighters make for good PR and good copy. Daymond may be interested, too, if he feels he can find a fashion niche. As you can see in the photo above, the Sharks seem to like the product. The real question is, will they like the business?