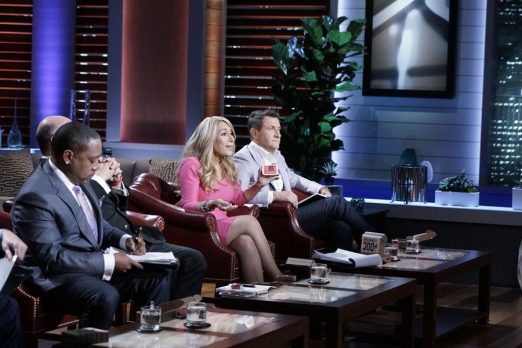 Shark Tank episode 816 honors American Heroes: firefighters, nurses, military veterans, and Peace Corps volunteers who started businesses will pitch the wealthy Sharks to get an investment for their businesses. Renee Wallace and Dale King hope to score a deal for Doc Spartan, their line of personal care items with a military theme. Niki and Matt Rasor show off Niki's Firefighter Turnout Bags, purses, packs and bags made from re-purposed firefighter's gear. Evan Delahanty, a former Peace Corps volunteer, pitches Peaceful Fruits, a fruit snack made from sustainably harvested wild acai berries from the Amazon rainforest which are produced by people with disabilities in Akron. Ohio.Melissa Gersin, a former maternity nurse turned inventor, introduces Tranquilo, her baby mat that mimics the sounds and motions of a mother's womb to calm fussy babies.
Which businesses do the Sharks invest in tonight?
Mark invested $100K for 20% of R Riveter in season seven, plus he offered them a line of credit. The funds were for better online marketing for what Mark called a "social network through action." We'll see how they implemented their marketing strategy in tonight's episode.
There are 28 Shark Tank Episodes for Season 8. This season features more appearances by Chris Sacca and a host of other surprises. Casting is currently closed, but it never hurts to get a head start on season nine! If you would like to appear on the show, check out our Auditions and Casting information.
Episode 816 – The Shark Investors and Entrepreneurs
The Shark Tank Episode 816 entrepreneurs will make their best pitch to the panel of five Shark investors who will use their own money if they choose to invest. The Shark Investors negotiate on the spot without any previous information, which differs from typical negotiations between venture capital investors and entrepreneurial start-ups.
Companies pitching the Shark Investors must go through a rigorous due diligence process before an on-air deal is completed. Shark Tank Blog follow ups help you keep track of the companies that end up successful and the ones that don't complete their deal.
Thank you for reading SharkTankBlog, the number one site for Entrepreneurs, Investors and Fans. Our content updates multiple times day, giving you the latest information on Episode 816, Season 8, and all other seasons and episodes.
Episode 816 Press Release
Episode 816 (2/10)
'SHARK TANK' CELEBRATES AMERICA'S HEROES IN THE FEBRUARY 10 EPISODE
Featured Entrepreneurs Include a Firefighter and His Wife, a Pediatric Nurse,
an Iraq War Veteran, and a Peace Corps Volunteer
"Episode 816" – A firefighter and his wife hope the Sharks make a smoking hot deal for their durable bags made from gear that protects on the front lines of firefighting; a vibrating mat that can calm a crying baby in seconds was born from the experiences of a pediatric nurse from Boston, Massachusetts; a former Army intelligence officer and his business partner from Portsmouth, Ohio, have made it their mission to heal America's wounds with an ointment made from essential oils; and a Peace Corps volunteer from Peninsula, Ohio, was inspired by his time in the Amazon rain forest to produce a natural fruit snack made with acai. Also, a follow-up with Lisa Bradley and Cameron Cruse from Murfreesboro, Tennessee, and their business, R. Riveter, which provides jobs to military spouses that Mark Cuban invested in during season seven, on "Shark Tank," airing FRIDAY, FEBRUARY 10 (9:00-10:01 p.m. EST), on the ABC Television Network.
The Sharks in this episode are Mark Cuban, Daymond John, Kevin O'Leary, Lori Greiner and Robert Herjavec.