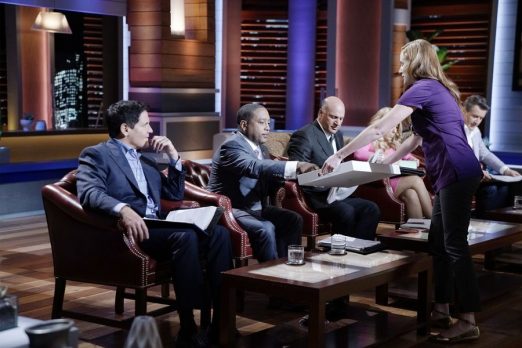 Maternity Nurse turned inventor Melissa Gersin seeks an investment for Tranquilo, her vibrating baby mat to sooth infants, in Shark Tank episode 816. Gersin spent six years in the maternity ward at Mount Auburn Hospital in Cambridge, Massachusetts. She is a proponent of using motion and soothing sounds to mimic life in the womb as a method of calming fussy infants.
Since she worked with thousands of parents over the years, she noticed many had difficulties soothing their infants. Without any experience designing products, she created her first prototype of the product that became the Tranquilo mat. The word means "quiet" in English, a word many new parents are unfamiliar with!
Babies spend nine months in the womb surrounded by amniotic fluid. They move with their mother constantly and hear the comforting sounds of mother's heartbeat, blood flow and other bodily functions. Gersin's mat gently vibrates and makes low-level sounds that sooth a baby (and its parents). It's portable, easy to clean, customizable, and fits in anything your baby gets into from car seats to cribs. You can even swaddle a child in a Tranquilo mat.
A small mat costs $65, the large version is $85. She also sells custom covers for the various mats for $25. Gersin likely needs a Shark to help her get into mass retail. Will a Shark find investing in this business a soothing enterprise?
Tranquilo Shark Tank Recap
Melissa enters seeking $100,000 for 10% of Tranquilo. She talks about her background and the calming effects of her baby mat. Mark wants one that's his size! Melissa hands out samples and Robert turned his on, sighing in delight. Daymond mentioned his doctor said to let babies "cry it out;" he wonders if this will start bad habits.
She tells the Sharks she has patents and she's done $65,000 in sales in less than a year. They cost $20 to make and she plans on retailing them for $99 after doing some market research. Daymond questions the valuation and Lori questions the pricing. Melissa says the value is in the patents and the prices reflect a "premium product."
She "invented" Tranquilo while working at the hospital and offered it to them first, but they weren't interested. Her co-workers were among her first customers. She works 80 hours a week on the business and one day a week as a nurse. She's got $180,000 of her own money in the business, which the Sharks like.
The offers start coming in with Daymond offering $100,000 for 20%, contingent on licensing it. Kevin offers $250,000 for 25% and says she needs to stop working as a nurse. some of that money could be used for salary and the rest for inventory. Mark tells her Kevin can send his HoneyFund customers along when they start having children.
Lori said Kevin gave her a great offer. If Lori were going to bid, she'd ask for more equity. Melissa counters Kevin with $200,000m for 15%. Kevin counters with $200,000 for 20%. Daymond senses Melissa's indecisiveness and goes out. Mark does too. Lori asks Robert what he's doing and Robert offers $200,000 for 15%. Melissa accepts!
Tranquilo Shark Tank Update
The Shark Tank Blog constantly provides updates and follow-ups about entrepreneurs who have appeared on the Shark Tank TV show. Since appearing, Melissa did more marketing and got the product  into BuyBuy Baby Stores and many smaller children's retailers. The mats are also available on Amazon. Robert doesn't list Tranquilo as one of his Shark Tank companies, so it doesn't appear the deal closed.
In November, 2018, the company was acquired by Baby Boom Products for an undisclosed amount.
Posts About Tranquilo on Shark Tank Blog
Tranquilo Company Information
Video