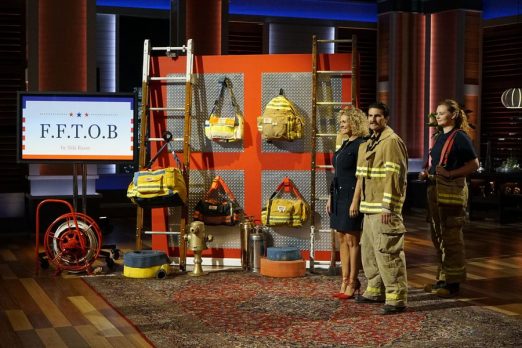 Niki and Matt Rasor hope to turn out an investment from a Shark when they pitch Firefighter Turnout Bags in Shark Tank episode 816, the American Heroes episode. Matt is a firefighter and one day back in 2008, he asked his wife to remove a big pocket from his turnout coat. She "started getting crafty" and made a little handbag out of the pocket and some old firefighter suspenders. When she brought the bag out in public, people kept asking where she got it, so she decided to start making more for sale.
Firefighters need to get new turnout gear (their outer coats) every ten years, so Niki started collecting the old garb and turning them into purses, packs, duffel bags, and more. She'll even do custom work if you supply her with the materials.
In late 2014, Niki had an unsuccessful Kickstarter campaign to boost her business, but it turns out she didn't need it. She ships Firefighter Turnout Bags worldwide and even has a small warehouse. Niki was the first to make this type of bag and her success spawned several 'knock-off" companies. Firefighter Turnout Bags sell from $30 to $150 depending on the style. The only limitation on sales is finding enough old gear for materials. She likely wants a Shark to help her get the business to the next level.
Will a Shark be fired up about this business?
Firefighter Turnout Bags Shark Tank Recap
Niki and Matt enter seeking $250,000 for 33.3% of their business. They begin telling how the business got started from repurposing Matt's old gear. As they hand out samples, the Sharks start asking questions.
Kevin wants to know how they'll scale. Niki claims she has no problems sourcing material. Responding to Mark, Niki says she used to have a warehouse but scaled back to working in the basement. She said she knows now what she didn't know then and wants to get back to the warehouse.
Niki admits she's made mistakes, but she still sold $194,000 worth of bags, profiting about $70,000. The average bag costs $130 and costs $60 to make. She reveals they have about $30,000 in debt. Kevin says she needs a business manager. When asked, she tells Robert she wants the money to buy rolls of fabric so she can streamline production. Making bags out of old gear doesn't lend itself t mass production.
Mark cautions her on using fabric, then Daymond chimes in. He likes the quality, but he'd need to commit too many resources to making it work; he's out. Mark views it as a product, not a brand; he's out. Kevin thinks the business isn't ready for a $250,000 investment; he's out too.
Robert likes the authentic bags but he's not crazy about the fabric bags. Still, he offers $500,000 for 100% of the business. Lori sees the vision of the premium, authentic bags and the lesser expensive fabric bags. Lori offers $250,000 for 50% of the business. After taking a moment to think, Niki accepts.
Firefighter Turnout Bags Shark Tank Update
The Shark Tank Blog constantly provides updates and follow-ups about entrepreneurs who have appeared on the Shark Tank TV show. It is unclear whether the deal with Lori closed. The company isn't listed on Lori's Shark Tank Products page, which indicates the deal didn't close.
Niki did move back to her warehouse and did begin making bags with new firefighter fabric. The new products are part of her "in stock" Probie line and includes everything from phone cases to wallets to backpacks and more. She still continues to make custom bags in both the repurposed line and the new material.
On February 15, 2021, Niki announced she was closing the business to spend more time with her family. Read more about that HERE.
Posts About Firefighter Turnout Bags on Shark Tank Blog
Firefighter Turnout Bags Company Information
Video