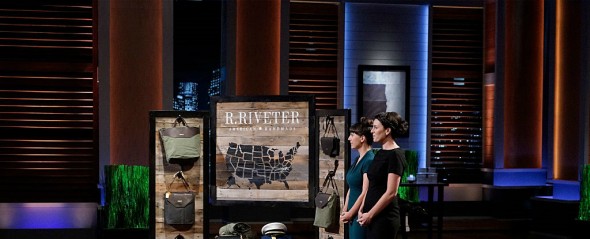 Cameron Cruse and Lisa Bradley pitch R Riveter, their company that makes "hand-made in America" canvas and leather handbags and totes, in Shark Tank episode 719. The two women are college educated, army wives who met while living the hectic, constantly uprooted army lifestyle. The pair founded the company in Cruse's attic above her home near Ft. Merrill, GA.
They began making R. Riveter bags out of recycled army tent canvas, surplus uniforms, and surplus blankets with commercial grade sewing machines built during the Korean War. Since then, they hired more than 10 army spouses to make their bags. They drop-ship the raw materials wherever they are stationed, allowing them to both support their husband's army ambitions and their own families.
Their story captured the attention – and cash – of the Kickstarter community when the pair raised just over $42,000 of a $35,000 goal. They used the funds to equip their remote employees – whom they call their "riveters." Each riveter fabricates pieces of the handbags in their home according to Cruse and Bradley's specifications, then sends the pieces to the "home office" in Southern Pines, NC for final assembly and shipping. Each bag comes complete with a dog tag and a yellow "support the troops" ribbon.
Cruse and Bradley likely want a Shark to help them purchase more upgraded equipment and to train more riveters. Will a Shark be riveted by this business concept and invest?
R Riveter Shark Tank Recap
R Riveter opens with an "at home segment" where they explain military families move every 2.9 years on average. They modeled their business after Rosie the Riveter and the iconic "We Can Do It" motto. They say they need a Shark's money and guidance to get to the next level.
Cameron and Lisa enter seeking $100K for 20% of their business. They explain the toughest part about being a military spouse is the constant uncertainty surrounding deployment or relocation. They built their business to empower military spouses and redefine American manufacturing.
As they hand out sample bags, which they make from military surplus made from tents and apparel, they tell the story of each one. For instance, 15 people made Robert's sample bag and each person involved in its manufacturing stamps it with their R Riveter number. The liners come from New York, the leather from Georgia, and so on.
The bags cost $55 and sell for $220. Their target market is military supporters. About 60% of their sales are online, the rest from their retail location. They invested $9000 of their own money to get started and did $300K in sales in the past 12 months. All their customers are from news media stories and word of mouth.
Kevin balks at the price, but he understands what they are doing. Mark says they are a social network through action, which he thinks is the future of social networks: through action – each employee becomes a salesperson. Daymond thinks they're on to something, but asks why they need a partner. They want to use the money for basic online marketing. The bags have a 90 day lead time and they need to educate people about their business.
Daymond says when you sell your company for 1/3 of the business to someone who doesn't know what they're doing, it's a problem. He can't help them, he's out. After a break, Kevin says he likes it; he offers $100k for 20%. Robert matches it. Mark offers the same as Kevin and Robert, but extends a credit line for future growth in addition. Lori says they have a different model than she has; she's out. Daymond says the ladies should tell the other three bobos to take a walk and they take Marks offer! Mark says if we all went out, Daymond would run down the hall and say "I'll help you."
RESULT: DEAL with Mark for $100K for 20% plus a line of credit
R Riveter Shark Tank Update
The deal did go through, and R Riveter has an update segment in season 8, episode 816.
Since appearing in the Tank, Cruse and Bradley have expanded their "Remote Riveter" opportunities, growing their employees from 13 to 31. Previously, they had an additional 11 Operators working on site at their retail location. That number has grown to 21.
Their physical space has grown as well. From working out of the back of their retail location, the company has moved into a dedicated work and warehouse space. They added five more machines, and plan to order 5 more in the near future in an effort to step up production to meet the post Shark Tank demand.
R. Riveter continues to grow in leaps and bounds, supporting the American military and repaying a patriotic Shark for his belief in their dreams. They now sell on Amazon, too.
In 2020 they had storefronts in Southern Pines, N.C. and Columbus, Ohio, and two 5,000-square foot manufacturing centers in Southern Pines and Wauchula, Fl. They planned to double the amount of "Riveters" to 80 in 2021. They also introduced "Heritage Bags," handbags made from your (or a loved one's) old military uniform.
In February, 2020, the company appeared in The Shark Tank Greatest of All Time Special in the "Greatest Businesses with a Social Cause" segment.
As of August, 2022, they are still in business and have annual revenue of $2 million.
Posts About R Riveter on Shark Tank Blog
R Riveter Company Information
Video