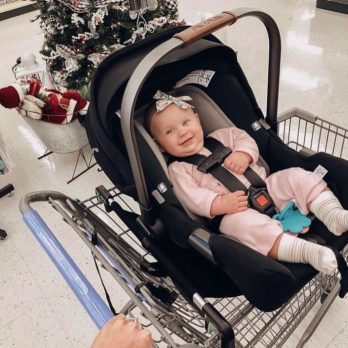 Lindsey Fleischauer invented Tote Babies to make shopping with her infant easier. When you put a baby seat in a shopping cart, there isn't much room left for groceries – unless you bury your kid. With Totes Babies, the car seat is suspended so you can put groceries underneath it.
Lindsey made the first Tote Babies with old curtain rods and tent canvas and actually used it. She enlisted the help of her dad, Stanley Valiulis, to design and patent a consumer product. Stanley has his name on 35 patents from his years working at Southern Imperial, Inc. When he retired, he was CEO. Now, he is partnering with Lindsey on this business. Now it's made from polycarbonate and aluminum tubing that extends to fit different shopping cart sizes and a heavy duty, washable cotton sling.
At just $39.95, this will likely be a hot baby shower item in the future. It sells in buybuyBaby and on Amazon. Reviews are universally positive, so Stan and Lindsey likely want a Shark's help with inventory and marketing. Will a Shark want to tote this business along.
My Take on Tote Babies
I totally get this product. Even though I rarely shopped with babies, I can see how well this would work. I used to go grocery shopping at night when the kids were little so I could get out of the house! This is one of those things that had it been around when my kids were little, we would have had one. I'm in.
Will Sharks Totes Invest?
Again, for the fourth time this episode, the social media and web design screams "I got a deal on Shark Tank!!" I'm predicting a deal and I'm predicting a deal with Lori. I wouldn't be surprised if this product was on QVC the Saturday after the show airs. This has Lori written all over it and Lori can blow a product like this up.
Expect a royalty offer from Mr. Wonderful too, but Lori will put the hard sell on because this has her elements of a hero product: solves a real problem, isn't too expensive, easily demonstrable and has mass appeal.