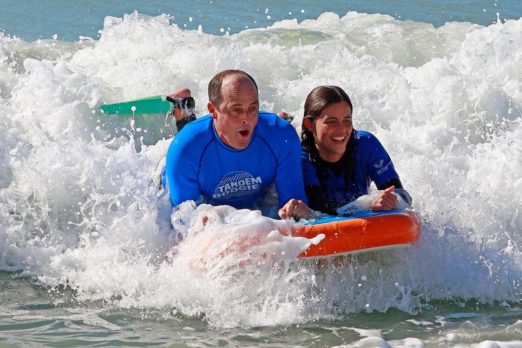 For the Clark family, Tandem Boogie Boards is a true family affair. Manya and John Clark and their daughters Alleanna, Juliette and Lyla all enjoy various water sports and the California beach lifestyle. The San Clemente family made a business out of one of their passions: boogie boarding. For those unfamiliar with this, it's like surfing but while lying on your tummy.
John, an avid boogie boarder, came across a giant boogie board at a local surf shop a few years ago. He bought it so he could ride with his girls in tandem. The board was "too clunky" for his tastes, so he asked his wife to help him design a better one. They came up with a board that's 50-inches tall by 33-inches wide that lets you ride side by side or front and back.
Instead of making it out of foam, they decided to make an inflatable "board" out of the same heavy duty material used in inflatable boats. They trotted it out to San Clemente's Ocean Festival in 2019 and everyone wanted to try it, so they decided to try to start selling them. They were going to make some boards to sell at the 2020 Ocean Festival, but Covid-19 put the kibosh on that. Instead, they launched a Kickstarter to sell some and prove the concept. Along the way, they discovered people use them as snow sleds and for pulling behind boats. Now, they're hoping a Shark will ride the waves with them.
My Take on Tandem Boogie Boards
We still have six or seven boogie boards from when the kids were little. They're the old foam covered with fabric kind. We have one super primo boogie board that has a soft but rigid foam core and plastic coating. The thing is indestructible!
I liked this product the first time I saw it. I would have loved catching waves with my kids when they were little. Maybe when some grandchildren come along I can get one and ride with them. I also like the fact that it's inflatable. It takes up less space in the car that way. I am in.
Will A Shark Ride The Wave And Invest?
Once again, I am predicting a deal because of the company's website and social media presence. The website was revamped going into show week and they are all over social media talking about their appearance. Manya also told a local newspaper that the Sharks "were really nice to us." In the same article, they said they were mulling a name change to Tandem Surf so they could introduce new products. That's some Sharky information too.
I don't think Mark will bid because it's a conflict of interest with Slyde Handboards and Tower Paddle Boards. I don't think Lori invests either. Mr. Wonderful will probably throw some kind of royalty deal out there just because he can. I think the Shark that bites is Robert. There's a photo of him riding the board on their company website. I think that's a bit of foreshadowing.