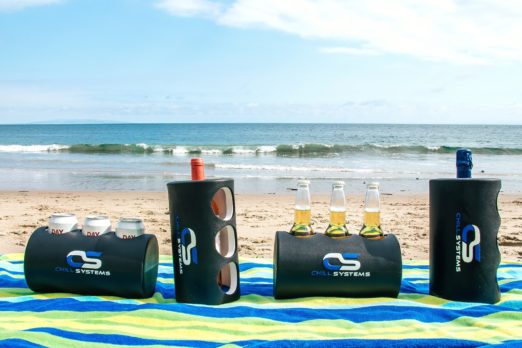 Chase Mitchel and Brian Bloch invented Chill System Coolers to cool your room temperature drinks without the use of ice. Instead of ice, they've built freezing gel right into the cooler itself. Coupled with one of their packs or totes, you can carry around enough beverages for a day on the go. With the pack you can carry up to nine cans, with the tote, 15.
The secret is, the Chill Systems Coolers will take a beverage from room temperature to ice cold in less than thirty minutes. While your drinking one can, you can reload another into one of the three can sized cooling slots. If you prefer wine, with the tote you can bring four bottles and a couple of wine glasses along.
A standard Chill System Cooler will cost you 50-60 bucks depending on how wild you want the exterior design to be. They have coolers that have leopard skin, American Flags, footballs and lots of other stuff on them. Packs and totes come in black and cost $69.95. So for about $130, you can have your Chill Systems ensemble ready for summer fun.
The guys got  noticed by Shark Tank producers due to their wildly successful Kickstarter campaign that raised $53,172 in August, 2018. Like a lot of businesses, I'm sure they faced challenges in 2020. Now, the guys want a Shark to help them navigate the waters ahead. Will the Sharks think this is a chill investment?
My Take on Chill System Coolers
My first thought when I saw this was "does the world need another cooler?" My second thought was "it only holds 3 beers? NO WAY!" Then I learned more about it. I use a lot of blue ice gel blocks in my coolers. I prefer them to ice because of the mess and the savings.
What Chill Systems does is put the ice in the cooler itself. Because it chills a beverage in less than thirty minutes, you can tote warm beverages around and swap them in when you drink a cold one. If all you want to do is carry drinks around, it's great. I wish they made a model that would accommodate more items. I already have three coolers, so I probably wont rush out to buy one, but I am sure a lot of people will!
Will Sharks Chill Out and Invest?
Once again for this episode I believe this company will get a deal and I think that because of their website. It has that "Sharky" feel to it. They're also hyping their appearance big time on social media. That's a behavior I've noticed over the years that is a good indicator of a deal. The question is, which Shark? This company, if it has decent sales, has appeal to all five Sharks.
Robert likes businesses that are direct to consumer and this fits that bill. Kevin will like that it is also has a promotional product component – that would go well with his "Something Wonderful Platform." It's also a highly demonstrable product which Lori would like. Mark will like it just because it's cool and Daniel will like it's mission to reduce the use of single use plastics.
Like I said, I predict a deal but I am not predicting the Shark.