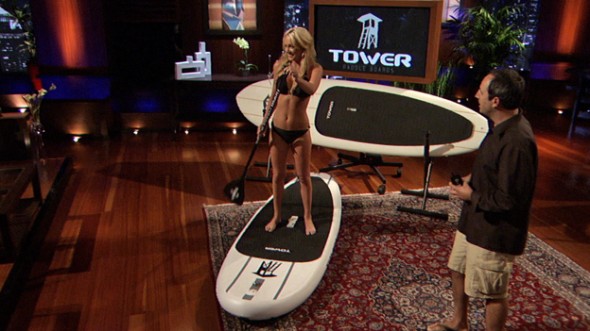 Tower Paddle Boards entrepreneur Stephan Aarstol is no stranger to success. In the early part of the 2000's, he made a tidy income selling premium poker chips online. He used his knowledge of search engine optimization to drive a lot of traffic to his poker chip site and made sales. Stephan recognized a growing trend in searches for stand up paddle boards and duplicated the online sales model; thus Tower Paddle Boards was born. Aarstol uses organic search traffic to drive visitors to his website and the growing popularity of the sport has his sales on an upward trend. Because he sells direct to consumers and eliminates the retail channel, Tower Paddle Boards sell for 50% less than comparable stand up paddle boards.
Tower Paddle Boards Pitch
Stephan came into the Shark Tank seeking $150k for a 10% share in the business. Aarstol stumbled while explaining his business: he blamed it on the slide show clicker not working properly and a natural aversion to delivering prepared presentations. Once he regained his composure, he wowed the Sharks with his numbers; he did over $100K in sales in just a few months. The Sharks are intrigued with his customer acquisition methods; Aarstol explains about search engine marketing to the delight of the Sharks. Mr. Wonderful particularly likes the "zero cost" aspect of Aarstol's search engine strategy.
Barbara is flustered by all the tech talk and goes out. Robert likes stand up paddle boarding (he confesses to enjoying it), but he thinks the business is valued wrong; he's out. Daymond follows, leaving Mark and Mr. Wonderful as the last Sharks in. Kevin offers $150k for 50% of the business and a 10% royalty for the products he creates. Stephan declines that offer and Mark comes in at $150K for 30% of the business with a right of first refusal on Stephan's next project. Kevin counters with the same deal at 25%, but Aarstol thinks Mark would be a better partner; they shake hands and the deal is done.
Tower Paddle Boards Shark Tank Update
Mark Cuban says Tower Paddle Boards is one of the best investments he's made in the Shark Tank. Cuban states "Tower is like the Dell of stand up paddle boarding." Aarstol repaid one-third of the $150K in just a few months and Mark should have all his investment back soon. Tower Paddle Boards was featured in episode 403 in season four for an update segment. Tower Paddle Boards sales are increasing and the business is a huge success.
For more updates, the business is featured in an update segment in Beyond the Tank episode 111.
In the summer of 2016, Tower introduced Tower Sunglasses. It is the first new product in their line. The end game is to grow the Tower brand into a total "beach lifestyle brand." Sunglasses are just the start. They plan to add an expanded apparel line, beach chairs, snorkels and any products associated with the beach – all at Tower's reduced prices. Founder Stephan Aarstol's plan is to become a one-stop-shop for beach gear and to take Tower to $100 million in sales.
As of July, 2021, they added  skateboards, clothing, beach tents swimwear and more to the line. Annual revenue is $7 million.
Posts about Tower Paddle Boards on Shark Tank Blog
Interview with Stephan Aarstol
Video Interview on the Shark Tank Hang
Company Information
Buy Tower Paddle Boards on Amazon
Great update on the Tower PB Website