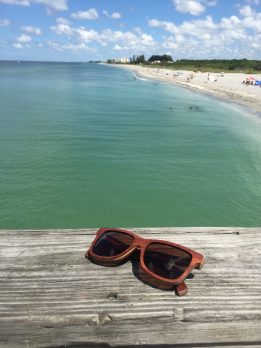 Last week, I spoke with Tower's Alex Resnick – the guy in charge of growing the Tower Sunglasses business as the first stage of growing the Tower brand. Tower wants to become a $100 million dollar company by creating "Tower Made," a complete line of beach lifestyle products. The first line they are coming out with are Tower sunglasses, a line of wooden framed sunglasses branded as "Sunglasses by Tower."
Tower Sunglasses: the Plan
The plan to grow the brand is simple, yet bold. The simple part is Tower's founder, Stephan Aarstol, knows people are looking for wooden sunglasses online. Just like when he started Tower Paddleboards, he noticed a search trend for wooden sunglasses. He also knows he can source sunglasses in the same places as the other companies who sell them and sell a quality product for less.
The bold part is how they are going to sell them. They are starting with one style – Wayfarers – in five different wood tones. Instead of ordering Tower sunglasses sight unseen, you can order the "Shop in a Box," literally a box with each of the five styles packed in it and shipped to you, the consumer, for free. You get a week to try the different colors and then you ship all five back to Tower for free. The assumption is, after you've tried them out and decide you like them, you'll buy a pair, which comes complete with a snazzy wood case. Tower sunglasses cost anywhere from $59-$95, which is less than half the cost of other wood sunglasses on the market.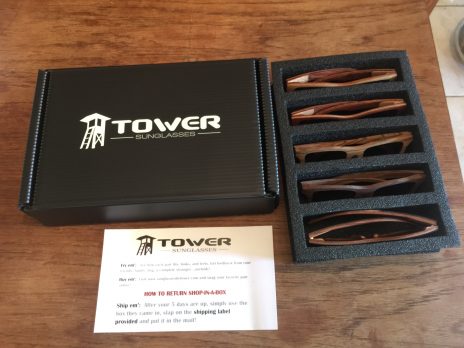 The Shop-in-a-Box plan operates on the assumptions that people like to try sunglasses on before they buy and that most people don't like an overwhelming array of choices, which creates "paralysis by analysis." Eventually, Tower sunglasses will come in rounded, aviator, club master, and wayfarer styles. They also plan to "evolve beyond wood." Any way you slice it, it's a unique twist on the old "puppy dog close sales technique," but for the internet age. It's a certainly a daring way to build a brand.
Tower Sunglasses Review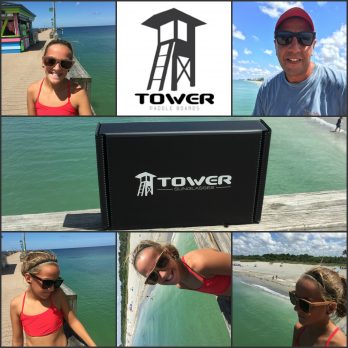 Tower was kind enough to send us a Shop-in-a-Box for review and we've been wearing them to the pier, the beach, and around town for a week or so. They are similar to Proof Sunglasses in quality and craftsmanship. The lenses are "Polaroid Ultrasight, scratch-resistant lenses with UV 400 protection." What that means to me when I'm fishing is: I CAN SEE THE FISH underwater! Polarized lenses are important to me because I am constantly in the sun and being able to see approaching schools of fish can mean the difference between a good and a bad day of fishing.
As far as the glasses, they come in Wayfarer style only for now in five different woods:  Maple and Beech (my daughter's favorite), Vermillion and Black Walnut (my favorite), Zebrawood, Birch (my wife's favorite), and Ebony. All the frames feature spring-loaded brass hinges and the classic Wayfarer style. Some of the frames float – check individual styles if that's important to you.
My daughter and I asked everyone at the pier one day what they thought. We let people try them on, and it was unanimous: Tower Sunglasses are COOL! One of her friends' parents are both optometrists and we ran into them at church (all wearing our "shades"). I asked them their professional opinion. Both thought the frames were very well made and they asked if the lenses were polarized. When I told them the price, they both remarked they were a good value.
To be fair, I get a lot of Shark Tank stuff to review and I really liked Proof Sunglasses when they sent a sample. I think Tower Sunglasses are just as good, but if I were buying new shades, I'd go with Tower because they are nearly half the price. This is how Tower does business; they source products themselves and deal direct with the manufacturer, allowing them to provide a less expensive retail price without sacrificing quality.
If you are in the market for some new Wayfarers, give Tower a try. You can order a Shop-in-a-Box HERE.