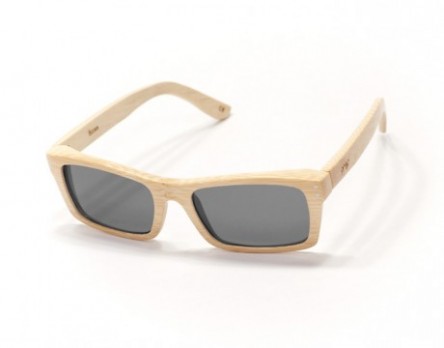 The guys from Proof Eyewear sent me some shades so I could do a Proof Sunglasses review. I never go anywhere without my shades, so I was looking forward to getting them in the mail! I always have quality sunglasses; I don't buy the cheapie brands. I have two pairs of Maui Jim sunglasses and one pair of Revo Shades. Now I have PROOF!
The Proof shades arrived in a hand-made, wooden box. They sent a nice, hand-written note along too (they're fans of The Shark Tank Blog). The guys sent me a pair of "Boise Bamboo" shades. As you could probably guess, they're made of bamboo. All the Proof sunglasses are made from sustainable woods or recycled materials, so they have the whole "green" thing going for them.
Boise Bamboo Proof Sunglasses Review
I thought the wood box the Proof sunglasses arrived in was a nice touch; the shades were inside in a protective, sheer drawstring bag ( a standard for any premium sunglasses). My first impression was that I liked the look of the frames. That's important, because a pair of glasses is about style, too. The hardware on the hinges was quality. It looked durable – these are no rinky dink drugstore frames.
It was a bright day with a lot of snow still on the ground, so it was a good time to put the lenses to the test. They are quality lenses that cut that winter glare. I liked them.
The only bad thing I have to say in my Proof sunglasses review is they were a squarish style; I like a more flared or rounded look with my shades because the square style looks weird on my big old melon head! The Bamboo Bud, or Bud Ebony Kush styles are more my cup of tea.
Proof sunglasses run around a hundred bucks, which is on the lower end of the price range for a good pair of shades. I'd definitely pick a pair up the next time I'm in the market for sunglasses. They look good, they're a conversation starter (my wife's friend was asking about them too), and they float! I do a lot of fishing, so that's a nice benefit; I've lost more than one pair of shades to the watery depths.
The best testimonial is this: My wife loves them! She stole them from me and informs me I won't be getting them back!