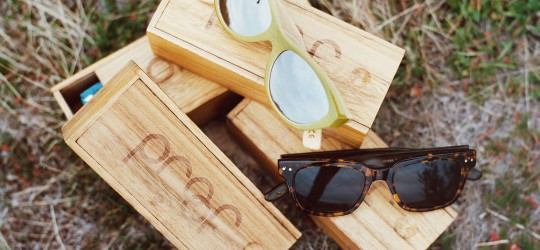 Proof Eyewear is an eyeglass company that makes its frames out of wood and other recycled and sustainable materials. The Dame brothers, Taylor, Brooks, and Tanner, started Proof Eyewear out of their garage in 2010. The boys have a strong background in wood and woodworking: their grandfather owned a successful sawmill for 60 years and the Dames claim to "have sawdust in their veins."  Proof Eyewear frames are crafted from real wood and plant-based acetate materials and come in 18 styles with a variety of color choices. Prices start at $95. All styles are available as sunglasses with plastic UV protected lenses and several can accept prescription lenses. Proof Eyewear is available online and at over 70 Stores in 27 states and 40 International locations. A portion of the proceeds from each sale is donated to a charity in India that give sight-saving cataract surgeries  to those in need.
Proof Eyewear in the Shark Tank
Taylor, Brooks, and Tanner Dame come to the Shark Tank in episode 417 to pitch their sustainable idea, Proof Eyewear, looking for an investment of $150,000, in return for 10% stake in the company.
The company offers eyewear frames created from plant-based plastics, and recycled skateboard decks, as well as wood. The brothers hand each of the Sharks their own personalized pair of sunglasses.
Daymond John asks about sales. Proof Eyewear has sold $433,000 worth of eyewear in twelve months since its inception. The company is already generating impressive sales, but is that enough to earn a Shark deal?
Kevin O'Leary wants to know about cost. Each pair costs $14, and sales for $50 wholesale, and $100 retail. The glasses have been purchased by several big-name celebrities.
The Sharks are impressed with the sales numbers, the brand's appeal and outreach, and the charity work the brothers have been involved in, helping to build an eye clinic in a poor region of India.
Who's In?
Lori Greiner has a conflict of interest, because she's already involved in a large eyewear company. She's out.
Mark Cuban believes the company will run into the same problem again soon, where orders are coming in and they'll need more money to keep up. It seems like an odd problem to have with a company; being afraid their success will sink them, but he's out.
Daymond John likes the product, but he believes that the brother's strategy of staying out of general-merchandise retailers like Costco and Walmart, focusing instead on specialty stores like Pac Sun, is a mistake. "All the cool brands are broke," he tells them. "I'm dying to be in Walmart. We would not have the same vision. I'm out."
Kevin O'Leary makes an offer. He'll give them the $150,000, in return for 25%, but he wants $2.50 on every pair sold until his investment is repaid, then the royalty would drop to $1.
Robert Herjavec makes a counter-offer. He's willing to do the same deal as O'Leary is offering, but without the royalties.
The two Sharks banter back and forth, each touting their respective benefits. The brothers ask to make a phone call before deciding. They call their father for some advice. When they come back, they ask if either of the Sharks will offer more money for the percentage, based on the valuation of the company. They ask for $200,000 in return for 20% equity, with the possibility of more investing later on. Herjavec won't budge.
The brothers pass up the offer, and leave the Shark Tank with no deal.
Proof Eyewear Shark Tank Update
Not every entrepreneur who doesn't get a deal will fall apart after the Shark Tank. Although Herjavec was disappointed, saying "I really wanted to work with those guys. I think we could've built something great," the brothers made the choice they felt was right for their company.
It's hard to argue with success. Since appearing on the Shark Tank, sales of Proof Eyewear have gone up more than three times, to $1.4 million, with projections of $2.5 million for 2014.  A retail location opened in Boise, Idaho. Proof Eyewear is selling strong, in spite of Daymond John's concerns about being "too cool for school," and the brothers are smiling in their shades.
They continue giveback as a company, donating thousands of dollars to causes and organizations they believe in.  In early 2016, they went to the Philippines where they did eye screenings and surgeries.
Also in 2016, they launched their aluminum collection. It's made from recycled aluminum. It fits their brand ethos and gives them a material they were missing in their lineup to give them some additional looks they couldn't achieve with their current materials. They launched a Kickstarter for their aluminum line and got fully funded in 5 days.
In 2018, they sponsored Slyde Handboards' annual handboarding tournament in San Clemente, CA.
As of November, 2023, the company is doing worldwide business with annual revenue of $6 million.
Posts about Proof Eyewear on Shark Tank Blog
Proof Eyewear Information