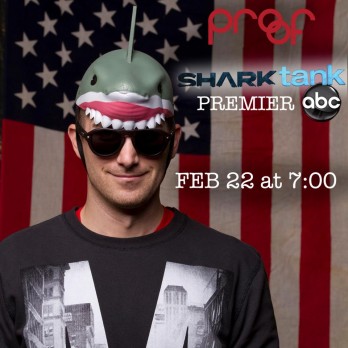 Wood sunglasses and eyeglasses make a lot of sense to a guy like me: I am never without my "shades." The three Dame brothers,Taylor, Brooks, and Tanner, started crafting wood sunglasses back in 2010 out of a garage. Their grandfather owned a sawmill, so the boys grew up with wood and woodworking. They've used that inbred know how to craft their Proof  Eyewear, eyeglasses and sunglasses made from wood and other sustainable or recycled materials.
The brothers managed to create quite a following and global sales of their wood sunglasses over the past few years and they'll pitch the Sharks in episode 416.
Wood Sunglasses Look Cool and they Float!
I used to be a cheap skate when it came to my sunglasses, until I found myself squinting while wearing a crummy pair. I've since graduated to Maui Jim "shades," they're expensive, but my eyes are worth it! Proof Eyewear has high quality, polarized frames in their wood sunglasses too. They offer a wide variety of styles that have captured the imagination of shade wearers everywhere.
I like sunglasses, I wear them more often than not, and I like the idea of wearing sunglasses that are "green" and made in the USA. I'd likely spring for a pair of wood sunglasses from the Proof guys; my shades are one of my few extravagances. I also like the idea that Proof's wood sunglasses float; as a guy who does a fair amount of fishing and boating, I've lost many a pair of shades to the depths!
I think the Dames had sustainability in mind over buoyancy. They take a lot of pride in their environmentally friendly approach to manufacturing. In addition to wood sunglasses, they also make sunglasses from recycled plastics too. Their products are unique and, starting at $95,  moderately priced compared to other premium sunglasses (like my Maui Jims).
Do the Sharks Wear Shades?
Proof Eyewear's wood sunglasses should intrigue the Sharks. It's a branding dream in a crowded, but lucrative, market. Daymond, with his connections in the apparel industry, seems a likely "target shark" for the Dame brothers, but I can see any of the Sharks making a bid for Proof Eyewear if the price is right. In a press photo, Robert Herjavec is wearing a pair of Proof Shades and he has a big smile on his face.
I think Proof will have their act together in the Tank, they have a mentor in their grandfather who taught them about quality craftsmanship and hard work. The Sharks value hard work and should be impressed by Proof's fairly wide, international market reach in less than three years. I predict multiple offers from the Sharks and I think Proof will have to add some "Shark Shades" to their line soon. I am "IN," wearing a pair of Smoke Jumper wood sunglasses!