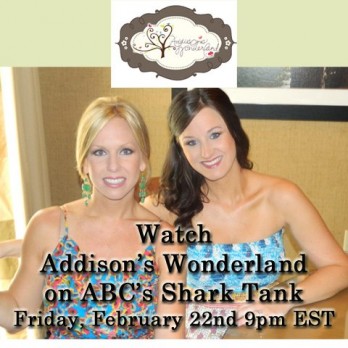 Bedding for girls is something, as a father of four daughters, I am very familiar with. I grew up in a house where the only female was my mother; to her chagrin, my brother and I thought sleeping bags were fancy bedding! Dust ruffles just aren't the kind of thing boys care too much about.
Girls are a whole different story. When my oldest daughter was born, my mother released a life time of pent-up "girl shopping" in a matter of weeks! Soon my house was chock full of toys, clothes and bedding for girls. My daughter's room looked like a doll house! Three more girls followed, unleashing more shopping, beautification, and decorating. My girls are a well accessorized bunch, thanks to Grammy!
Addison's Wonderland founder Brittany McWhorter Hayes must have had people like my mother in mind when she began sketching designs for her high-end girls bedding line back in 2010. She always wanted her own business, and her new daughter, for whom the company is named, was Brittany's inspiration. She's capitalizing on parents and grandparents' desires to make the little girls in their lives happy and living like princesses.
High End Bedding for Girls as a Business Concept
I get the concept of high-end bedding for girls and I have boxes of comforters, sheet sets, and other room decor in the basement to prove it. While I got to "enjoy" the aesthetics of my daughters' rooms over the years, the only task I personally performed in the various decorating and re-decorating projects was painting and furniture assembly. Buying curtains, accessories and bedding for girls bedrooms was always my wife and/or mother's duty. Like I said before, guys just don't get too worked up about dust ruffles.
The Addison's Wonderland business model is something I can get a little excited about. Brittany commands a hefty price for her products, which most fairly well healed women with a reasonable decorating budget for their girls' rooms would gladly pay. One thing I've learned with four daughters is women (or girls) don't like to skimp on quality, especially for an "investment" like room decor or bedding for girls. Addison's Wonderland designs are geared for girls to grow with from age two to sixteen. Once they hit sixteen, they'll want to lose the "little kid stuff" and put their own personality into their rooms. This usually involves more painting for dad, too!
Will the Sharks Like Addison's Wonderland?
I think Brittany can make a nice business out of Addison's Wonderland, but the real key would have to include getting her bedding for girls into national retailers and creating a solid brand. The Sharks seem to have a disconnect when it comes to children's products in general – they just don't fund many. The market is HUGE, but I get the sense the Sharks think it's too niche. I think Addison's Wonderland bedding for girls is the type of product that would be a big player in the baby registry sales channel. If a mom wanted a princess room for her new little angel, friends and family could buy one or two items each to complete a room. There are plenty of parents and grandparents out there that would spring for this stuff too.
Lori likes lower price point items, so I don't think she'll be a player. Daymond has connections at national retailer Bye Bye Baby, so he could make an offer. I don't see Robert, Kevin, or Mark getting involved unless Addison's Wonderland has gang buster sales. I am getting the "it's too early" vibe for this pitch, so I think I will be "out."