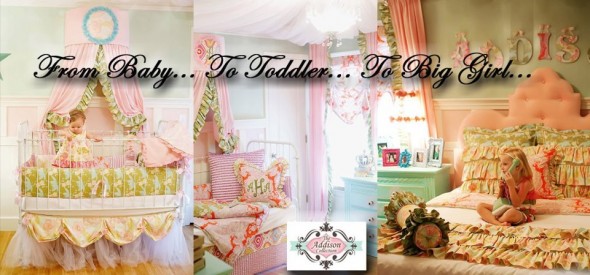 Addison's Wonderland makes high end bedding  for little girls. Vice President Brooke Anderson Bryant and Company founder Brittany McWhorter Hayes pitch the Sharks in Episode 416. Addison's Wonderland is named after McWhorter's daughter. McWhorter is an Interior Designer by profession and always dreamed of owning her own business. She started Addison's Wonderland in 2010, seeking to made girls' bedrooms that were colorful and sweet and "just a little bit over the top." Anderson, a former teacher and McWhorter's best friend, came on board in 2011 to do the branding and marketing side of the business. Addison's Wonderland sells very fancy, high-end bedding for little girls. They also sell window treatments, head boards, baby products, and accessories on their website. For decorating purposes, customers can purchase an entire collection for a complete look, or pick up individual pieces to accessorize existing decor. The designs are bold and colorful, with a touch of little girl frill and charm.
Addison's Wonderland Shark Tank Recap
Brooke Bryant and Brittany Hayes come into the Shark Tank in episode 416, looking for a $90,000 investment in return for 20% of their business, which provides high-end bedding and decoration choices for little girls' bedrooms. Hayes started the line for her daughter, Addison, so she partnered with Bryant to create the bedding line.
Kevin O'Leary claims to be a "fashion-forward" Shark, and asks if they're selling the pieces through retail outlets. The pair are also selling the bedding online. The questions come thick and fast, and the ladies return answers with confidence, making it clear they know their brand's challenges and where the business needs to go. Their sales in the first year have been $130,000, but they agree with Lori Greiner, that the price point needs to come down from the astronomical $1,400 average for a complete twin-sized bedding set.
Robert Herjavec is uncertain about the price point. The ladies explain that they'd like to bring the price point down by 30%, in order to reach a broader market.
Kevin O'Leary chimes in. "Maybe this isn't supposed to be a huge business. Maybe it's just supposed to be a profitable one, where you charge people outrageous prices for this stuff…"
Lori Greiner disagrees, saying, "They won't survive that way."
Who's In?
Mark Cuban believes they've found a niche, but Greiner reclaims the floor, explaining that reaching the mass retail market is the best way to grow. Cuban and O'Leary believe that they should continue growing their high-end product line.
Robert Herjavec believes that the pair already "have the perfect business." He doesn't have much to offer to the company, so he's out.
Lori Greiner prefers to work with products that have appeal in the mass market. She's out.
Daymond John believes the pair doesn't "need" the Sharks. He's out.
Kevin O'Leary doesn't see anything proprietary in the product, and worries that knock-offs will drive Addison's Wonderland out of business. He's out.
Mark Cuban is the last Shark standing. He believes "there's a market there," but he doesn't think he'll gain a sufficient return on his time. He's out, and Addison's Wonderland's owners leave the Tank without a Shark deal.
Addison's Wonderland Shark Tank Update
In spite of their setback in the Shark Tank, Hayes and Bryant continue to market their high-end bedding line. Alison's Wonderland profited from the "Shark Tank effect," gaining traffic to the website and nationwide attention that garnered even higher sales. "This was worth $1 million in advertising," gushed Bryant.
For several years, Addison's Wonderland was a successful niche business, but in 2014, the company, like so many other small businesses, went under. Hayes blogged about her decision:
"I just simply felt it was time to move on.  I have decided to follow my heart and give up one dream for another… I've decided to say goodbye to Addison's Wonderland as you know it."
It seems that the final chapter has been written for the fairy tale world of Addison's Wonderland.
While taking time off from the business, Hayes continued to blog on the Addison's site. She also did the interior decorating for HGTV's Dream Home Giveaway in 2019. The blog has morphed into a lifestyle and fashion portal selling women's fashions, kids' fashions, pillows, rugs, lighting, kitchen accessories and more. In February, 2019 she opened a brick and mortar boutique in Monroe, Georgia. As of October, 2022, annual revenue is $1 million.
Posts about Addison's Wonderland on Shark Tank Blog
Addison's Wonderland Information