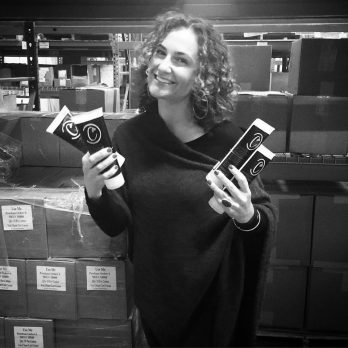 I recently spoke with Alanna York to get a Controlled Chaos update. I first spoke with Alanna back in January, 2016 – ten days before her episode aired. She was NOT controlling the chaos then: her website wasn't done and she was completely re-branding her product from the Use Me product line to Controlled Chaos. Back then, she promised me she'd give me a Controlled Chaos update – we just got around to it last week!
In January's post about Controlled Chaos, I said: "I think it's a long shot that Controlled Chaos Curl Creme gets a deal, but using Shark Tank as a rebranding vehicle is a bold move on the part of Ms. York. Other would-be Shark Tank entrepreneurs should take note of this pitch and what happens in the aftermath; we will definitely follow-up on this business!"
I also said there's a "possibility that a deal gets made on air, but didn't close." Of course, a deal was done with Lori who invested $60K for 50% of the business. The deal never did close – which explains the scramble to build a website less than two weeks before airing.
Controlled Chaos Update
A lot happened since January, as Alanna told me during our chat. "We did not close the deal with Lori," she said, "but she is helping us get on QVC. I think it ended up better for us, because we didn't have to give up half of the company. It's been a crazy ride and we finally put the finishing touches on our new website which launched on August 17."
"After re-branding the product and designing new packaging for the show, we did over $400K in sales after airing. Actually, we sold more products on our re-air than the original show. Our website was better the second time and we sold out in thirty minutes. We also launched 'Curl Click,' a monthly subscription plan. To date we have several hundred members. Going forward, we're looking at more eco-friendly packaging; we're testing different options now."
Alanna says the Shark Tank appearance opened up other TV opportunities. "I'm headed to Miami in November to film a segment for E Television. They want me to style hair for women who are going through chemotherapy. That opportunity wouldn't have happened without Shark Tank."
"One thing I've realized is that I've made all the mistakes. Now, I have the sales to keep the business going. Shark Tank made me learn about cash flow and inventory management. The show also opened some doors for us. We just delivered our first pallet of Controlled Chaos to the largest Canadian salon distributor. I'm expecting that deal to pick up more salons and we're negotiating with several US distributors."
In the Tank and Beyond
Alanna tried out for Shark Tank three times and is a big fan. "When I was on the set, I felt like I was watching the show on TV. I expected it to be more fake, but I felt like it wasn't really happening. The edit cut out a couple of good one-liners and there was a lot of stuff left out that could have made me look stupid. I still looked a little silly, but it wasn't that bad."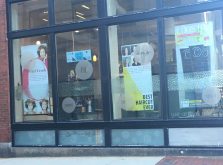 "I wanted to do a deal, because as a company, we were at the point where we had nothing left to lose. I didn't want to look bad, but I figured even if I did, I hoped enough people would like the product. I was definitely targeting Lori because I wanted QVC, but I kind of regret not getting Barbara. I've become friendly with the PiperWai girls and they are absolutely crushing it with Barbara. The other regret I have is we didn't talk enough about the product itself. Ultimately, Controlled Chaos is about women feeling more confident. We eliminate frizz which I call an 'angry curl.' I've had women cry when they see how well it works for them."
"Our success has allowed me to expand and renovate my salon. We're expanding from 5000 to 10,000 square feet and adding a juice bar, café, and workout studio. The success of Controlled Chaos has allowed me to do this work, and, even though I'm still not drawing a salary from the product side of the business, it's created a lot of new opportunities."
"Right now, I'm focused on growing both businesses and enjoying what little free time I have boating with my boyfriend."
Fun Fact and Some Advice
I always ask the entrepreneurs I speak with to give some words of inspiration for others. In the course of that piece of the conversation, I found out Alanna is the second reality TV star in her family. Her uncle, Bob Crowley, is a former WINNER of Survivor from season 17 in Gabon!
As for the advice and inspiration, Alanna had this to say:
"Back in 2007, I had a two-year plan for this product. If I knew then it would take ten years to get it to be successful, I might not have done it; but I'm glad I did. Anybody can make anything a success if they are tenacious enough. Most people don't keep plugging away. You need to realize success isn't an overnight thing."
I had one more question for Alanna. She answers it over at The Hot Dog Truck.