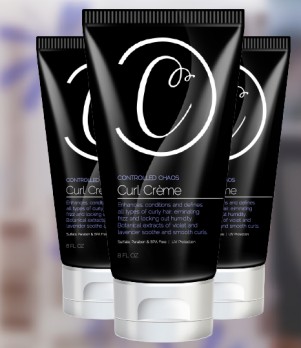 When I was searching for information about Controlled Chaos Curl Creme, I went old school and made a phone call to Alanna York, who pitches the product on Shark Tank episode 715. I couldn't find any information of the product or company, other than a thinly built-out Facebook page. All I had was her name, which led me to her UseMe Products website, and a phone number!
When I spoke to her, she sounded chaotic! She was 10 days out from appearing on Shark Tank and didn't even have a website for her newly branded product up. On the surface, this would appear to be a disaster, but I think Ms. York is going to pull this off by the skin of her teeth.
She's tried out for Shark Tank three times! She made the first cut twice, and obviously made it to the show on her third try. She told me she thinks she was too unfocused the first two times she tried out, hence the simplification to one product. Controlled Chaos Curl Creme is a rebranded version of UseMe Products' Curl Up and Shine Creme – which was her top-selling product.
In the past, York was trying to sell direct to salons and consumers with a refillable concept. She feels this confused the Shark Tank producers, so when she went to try out for season seven, she made a business decision to focus on her best product, which she calls "the curl crème of a curly girl's dreams." Controlled Chaos Curl Creme is all natural and, when used with her accompanying styling system, it will "soothe and smooth curls to perfection."
York has been in the hair biz for over 15 years in Portland, Maine. She's been selling her UseMe line for almost as long, but she's hoping Shark Tank will take her flagship product to a national level. She swore to me she'll have her Shopify website ready by show night at www.controlledchaoscurl.com. In the mean time, you can buy all her Products on Amazon.
My Take on Controlled Chaos Curl Creme
As a man with very little hair up on top (OK I'm bald), I really don't have much use for this product. One of my daughters has the hair I used to have: thick, curly, and at times unruly. She would try this; in fact, she might get a bottle for her birthday!
I have been locked out of the bathroom more times than I'd care to mention because she was trying to make her hair behave. Controlled Chaos Curl Creme totally tames wild, frizzy curls and makes them look like hair out of a fairy tale. The before and after pictures on the website say it all. If it works as advertised, curly girls are going to flip over this product.
Do Sharks Curl Up and Invest?
It's a bold move rebranding yourself on Shark Tank. Even though she taped in September, 2015, there wasn't a guarantee that she'd air, so she basically put the whole thing together in a few weeks once she got the "go" from the producers!
The lack of preparation on the website front is usually a strong indicator of "no deal" as a Shark's resources aren't at the disposal of the entrepreneur. Getting a website ready for Shark Tank is no small feat; even businesses with robust websites and eCommerce platforms crash under the server crushing traffic the show can produce. The fact that Alanna is working with Shopify, the eCommerce platform of choice for many of the Sharks, could indicate that there was a deal made. There's also the possibility that a deal gets made on air, but didn't close. Two thirds of the handshake deals that happen on air never come to fruition for one reason or another.
I can't see any of the male Sharks making a bid for this, but Lori may be interested, even though she's shied away from beauty products in the past. Mark, who took a flyer on Hot Tot in season four, could also make a play since he has experience in the hair care space and this product doesn't compete with his other investment.
While I think it's a long shot that Controlled Chaos Curl Creme gets a deal, but using Shark Tank as a rebranding vehicle is a bold move on the part of Ms. York. Other would-be Shark Tank entrepreneurs should take note of this pitch and what happens in the aftermath; we will definitely follow-up on this business!