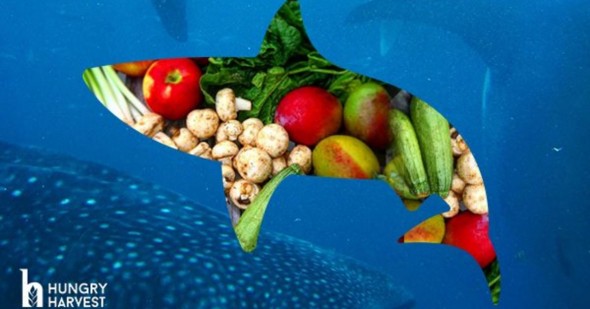 Ugly produce tastes the same as pretty produce and it has the same nutritional value, too. Unfortunately, a lot of perfectly good produce – over 6 billion TONS – gets thrown away every year, just because it doesn't "look right." Evan Lutz found a way to save all these vegetables from going to the island of misfit produce when he created Hungry Harvest, a company that sells the ugly produce direct to consumers at 10%-20% less than its prettier cousins. Lutz pitches his concept to the Sharks in Shark Tank episode 715.
Super markets in France have been selling discounted ugly produce for years, but the concept hasn't caught on in the USA – yet. Lutz seeks to change that. The concept is simple. Much like a subscription box service, you sign up for weekly deliveries of produce. While you don't get to pick and choose, you're guaranteed a variety of leafy greens, "large" vegetables, and fruit. For each bag delivered to a paying customer, Hungry Harvest gives 1.2 pounds of veggies to area food banks.
The service is only available in the greater Baltimore/Washington, DC area, but Lutz is looking to expand. At the core, this is a direct sales technology company whose product happens to be ugly produce. Lutz has invested heavily in the technology so customers have a trouble-free experience. He likely needs a Shark's help to scale the business.
My Take on Ugly Produce
I do all the shopping in our house and I've purchased ugly produce before. Sometimes the supermarket will have some in the back, along with the day-old bread. I don't mind if my produce is misshapen, once you cut it up and cook it, it really doesn't matter.
I think throwing away 6 billion tons of food is sinful. I am glad someone is doing something about it! When you think about all the people in the USA alone who are hungry (not to mention the rest of the world), it seems incredibly wasteful to discard so much food.
As a consumer, the idea of saving money on my fruits and veggies is appealing, too. Food doesn't get cheaper every year and I am vigilant in pinching pennies on our household's second largest monthly expense. If and when this service is available in my area, I will be an enthusiastic customer. I am IN!
Do Sharks Harvest Profits?
The only thing keeping Hungry Harvest from growing nationally is its ability to scale. The service could be viable in any major city that has a wholesale produce market. Wholesale markets are where the supermarkets get their produce; they're major distribution centers and that's where a lot of the ugly produce gets thrown away.
Lutz, as stated earlier, spent a lot of time perfecting the technology behind Hungry Harvest, so that's where he needs to focus when pitching the Sharks. The idea of going direct with produce would be too expensive for most consumers, but the ugliness aspect makes it viable for both consumers and Lutz. If he can demonstrate the efficiency of his business model in a believable way, he should field offers.
I don't think Lori or Daymond would go for this, but Robert, Mr. Wonderful, or Mark might. Remember, Mr. Wonderful ended up investing in Plated – the gourmet food company that ships direct from a distribution center in Chicago. Hungry Harvest could be a similar success, with much less hassle. I predict they get an offer from one of the three aforementioned Sharks and do a deal.