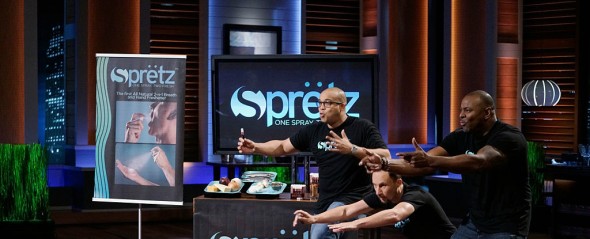 Tony Gauthier invented Spretz Breathe Spray to do two things: freshen his breathe and freshen his hands. He wanted a product that would mask smoke and food odors, when he couldn't find one, he invented it. He'll pitch the product along with his business partners, Scott Hoag and Wesley Osaze, in Shark Tank episode 715.
The business has been around since 2012, but they haven't sold any product yet, but their website says they'll have product for sale on a pre-order basis the week they air on Shark Tank. In the past, it appears they had Spretz Breathe Spray on sale at some local Oakland stores, but there is no retail presence as of today. I can only presume it took a long time to get approval to sell the product.
They say Spretz is "all natural," but there isn't any list of ingredients on the website other than this: "Ingredients include: Purified water, natural sweetener (no aspartame), flavored extract (proprietary formula with trace amounts of alcohol)." Seeing a company in such an obvious start-up phase is refreshing; it hearkens back to Shark Tank's roots. Lately, there have been a lot of companies with big numbers that seem to be on the show for publicity.
My Take on Spretz Breathe Spray
This is a product that belongs on the counter at convenience stores like 7-11, right next to the 5 Hour Energy bottles. It's an impulse purchase and I'd probably grab a bottle to try. I smoke, so I use breathe spray and mints all the time. The added bonus of being able to use it on my hands sounds good, too.
If Spretz wants to be big, they need to get into a relationship with a distributor that can put them in convenience stores. I am sure more than one will approach them after they appear on Shark Tank.
Do Sharks Refresh this Business?
Based on the availability of the product – or lack thereof, I am guessing the Sharks pass on Spretz breathe spray. While it is nice to see a company that's just getting going on the show, it won't be enough to woo a Shark. No sales is tough to overcome in the Tank and it looks like Spretz's sales are anemic at best.
I am betting there's a sob story about the company getting screwed in the past, too. While it's a legitimate problem, it isn't one a Shark will want to get involved with. I think the Sharks bow out one by one.