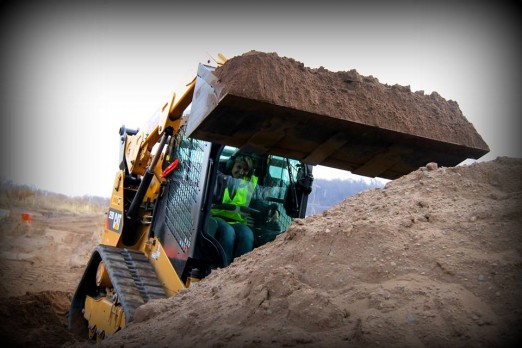 Randy Stenger likes playing in the dirt in a really BIG way, which is why he opened his heavy equipment adventure business, Extreme Sand Box, in 2013. His kids remarked that it would be cool to play on heavy equipment, so he Googled the idea and found one business that does it – in Florida. Since Stenger lives in Minnesota, he couldn't go play with his kids, so he opened his own business!
The Extreme Sand Box concept is simple. For a fee, you get trained on operating a piece (or pieces) of heavy construction equipment. Then, they turn you loose in their "sandbox," where you get to dig holes, move through an obstacle course, or even crush cars! He even has a working fire truck that can show up at your house or business for parties. They do a big "corporate outing" business out of their 6300 square foot facility and ten-acre "sandbox."
Anyone who has ever dreamed of using heavy equipment will love this business. Extreme Sand Box has one location in Hastings, MN and another opening in Pottsboro, Texas in the Spring of 2016. The Florida business Stenger first found, located in Bradenton, Florida, is out of business, but another similar business called Dig This is now operating in Las Vegas.
Stenger has proof of concept: over 1000 people patronized the business in its first year; that's close to a half a million bucks in sales. Extreme Sand Box is a capital-intensive business, so Stenger likely needs a Shark to buy more construction equipment!
My Take on Extreme Sand Box
As soon as I saw this business on the ABC press release, I thought "wow, I have to try this!" I once rented a skid steer for a weekend to clear some land for a lawn and it was a blast! I have a friend in the construction business who would give my kids and I a ride in his bull dozers and loaders whenever we visited, it was a lot of fun.
I can see this being a national business with locations near every major city. The downfall to the business is the cost. Land is expensive and so are the machines, but once it's in place, it looks like a profit machine. I am so totally in, I want to play in an Extreme Sand Box!
Do Sharks Play in the Sand?
I think Stenger gets a deal. Here's why: the Bradenton business that inspired Stenger to open Extreme Sand Box is closed, but its website address now redirects to the Extreme Sandbox website. Does this mean they'll be opening in Florida soon?
The other thing that makes me think he gets a deal is the location in Texas; it's about an hour and a half north of Dallas. That's Cuban country. Mark Cuban has the cash to fund this business and he's the type of guy who would do it just so he could go play with the construction equipment. Cuban likes "experiential" businesses (like LA Haunted Hayrides and Rugged Maniac) and this business fits that profile.
Cuban is just like any other guy – he wants to play with the big toys. The thing that makes him different than the rest is he has BILLIONS of dollars to make it happen!