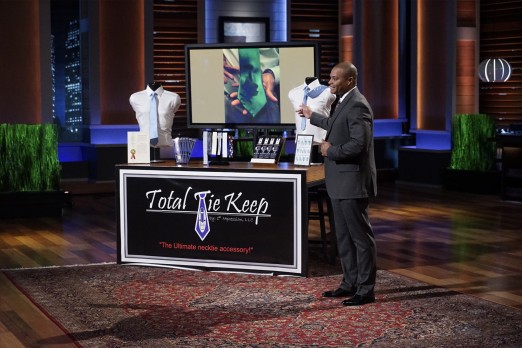 Former secret service agent Dwight Littlejohn is used to wearing suits and looking sharp, which is probably what led him to invent the "ultimate necktie accessory," Total Tie Keep. He'll pitch his product to the Sharks in episode 713.
Littlejohn began selling the his ultimate necktie accessory after applying for a patent in 2007. His patent was granted in 2010. He sells Total Tie Keep from his 1stMpression, LLC website and the Total Tie Keep website; the product is also available on Amazon. He had it in Men's Wearhouse for a while, but they no longer stock it.
It's a basic product that allows the wearer to attach both flaps of a tie to a sleeve that buttons to a shirt. This keeps the tie straight and looking sharp. Unlike tie pins, you don't have to pierce the tie fabric to keep it in place. It sells for seven bucks or $19.99 for a four pack.
The web presence for the ultimate necktie accessory is less than ideal. Littlejohn's 1stMpression site is outdated and the Total Tie Keep site is a simple Wix site – not much more than a landing page. There is absolutely no social media presence for the product either. Littlejohn may have a unique invention, but he obviously needs a Shark's help with marketing!
My Take on The Ultimate Necktie Accessory
I NEVER wear ties. In fact, since I moved south, I usually wear shorts and a tee-shirt. The only time I put on a suit and tie is for weddings and funerals (and not even every one). I used to wear suits to work every day, but thankfully, those days are long gone.
I wouldn't be a customer, but it is a useful little accessory for those guys that want to rock the suit.
Do Sharks Tie up an Investment?
The complete lack of social media presence and the poor web presence tell me Littlejohn doesn't get a deal. The reason he got on the show is probably due to the novelty of having and entrepreneur who was in the secret service, not the product itself. While I wish Mr. Littlejohn the best of luck with his business, I think the Sharks will politely go out, one by one.