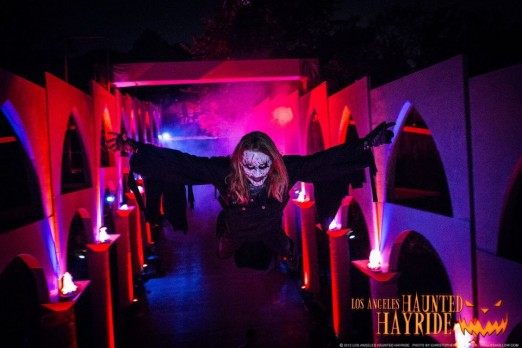 Melissa Carbone and her troop of scary actors from Ten Thirty One Productions haunt the Shark Tank in episode 509 on October 25, 2013. Melissa couldn't have timed her air date better: Ten Thirty One Productions puts together Haunted Hayrides in Los Angeles. They also have a Horror Camp Out and a Ghost Ship ride which promises "three levels of pure HORROR."
Carbone, a former Clear Channel Communications executive, founded Ten Thirty One Productions in 2009 and created the LA Haunted Hayride – a horror filled ride through Griffith Park in LA that features ghosts, witches, maniacal killers, and the requisite scary clowns. She claims over 100,000 people have been scared by Ten Thirty One Productions events since she started.
Tickets for the Haunted Hayride cost $30.00 and you can rent a "private wagon" for groups of up to 30 for $1,325.00. They also have a maze at the LA location and a "Purgatory Side Show area" that require an extra fee. Plans are in the works to bring the Haunted Hayrides to New York, but it doesn't look like that's happening this year.
Carbone and her troop of frighteners will try to scare the Sharks into investing in Ten Thirty One Productions. The question is, which is scarier – Halloween Ghouls or Sharks?
Ten Thirty One Productions Shark Tank Recap
Melissa enters the Shark Tank with a zombie in tow and asks for $2 million for 10% of the business. She says the LA Haunted Hayride is the most popular attraction she produces as a troupe of scarers approaches the Sharks. Kevin says the valuation is the scariest thing in the room. When Melissa explains the LA Haunted Hayride brings in $1.8 million in 17 nights with $600K profit, the Sharks take notice.
Melissa says they are starting a NY Haunted Hayride next year and plans 10 "Horror Camps" on the west coast in 2014. She gives the Sharks her marketing credentials. She says the value comes from offers made by Hollywood entertainment companies for Ten Thirty One Productions.
Kevin can't "get there" on the valuation and goes out. Robert thinks she won't hit her sales projections, he's out too. Lori thinks it will take too long to get her money back, she's out. Daymond then offers $2 million for 40%. Melissa counters with $2 million for 20% and Mark Cuban says "I'll take that offer." This is the biggest deal in Shark Tank history. Mark says he made the deal because experiential entertainment is "the next big thing." Melissa says this deal changes the game for her.
Ten Thirty One Productions Shark Tank Update
The Shark Tank Blog constantly provides updates and follow-ups about entrepreneurs who have appeared on the Shark Tank TV show. Once an episode has aired, we monitor the progress of the businesses featured, whether they receive funding or not and report on their progress. Ten Thirty One Productions and Melissa Carbone get an update segment in episode 605 in season 6. Since making the biggest deal in Shark Tank history, the business has expanded to New York, started their "Ghost Ship" experiences in California, and done a summer tour of "Horror Camp outs."
In the update segment, Melissa explains the horror campout concept. Since partnering with Mark, they've done $2 million in sales with projections for $4 million in 2015. She explains Mark introduced her to Live Nation, whose CEO also invested in Ten Thirty One! They now have nearly 1000 cast members for the different venues and Melissa thinks she's on the way to building the biggest "horror entertainment" company in the world.
In 2014 they expanded to New York. Sadly, in 2016, a patron was seriously injured when a fog machine fell on her. There was a lengthy lawsuit and the company was acquired in 2018 by Thirteenth Floor Entertainment Group, the world's largest haunted house company, for an undisclosed amount.
Posts About Ten Thirty One Productions on Shark Tank Blog
Ten Thirty One Productions Information
Video: