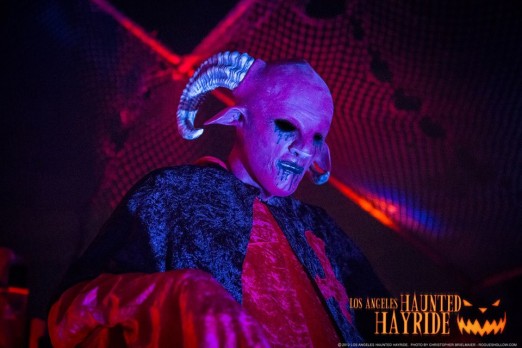 Halloween comes early to the Shark Tank this Friday in episode 509 as Ten Thirty One Productions brings its troupe of frighteners to pitch their haunted hayrides. Ten Thirty One Productions is the brainchild of former media executive Melissa Carbone who produces the haunted hayrides in Los Angeles. The seasonal attraction scared over 100,000 patrons since 2009 and Melissa wants the Sharks to add some financial might to her fright.
The previews for this pitch show ghouls and goblins trying to scare the Sharks. I hope Mr. Wonderful doesn't scare them! The haunted hayrides happen in LA's Griffith Park. Groups of Halloween revelers ride in a wagon through various spooky scenes that feature witches, serial killers, ghouls, goblins, and the obligatory scary clowns. The haunted hayrides are "LA's most buzzed about Halloween event."
I LOVE Haunted Hayrides
I remember going to the Boston Children's Museum Haunted House as a kid and getting the bejesus scared out of me. In my area, Spooky World has been a steadfast Halloween attraction for years, though they've re-organized somewhat since going bankrupt a few years ago. There are dozens of smaller operators of haunted hayrides in New England and all over the  USA.
Carbone deserves kudos for pulling off a massive haunted hayride attraction in an urban area, it has to be a heck of a lot more difficult in the city than in some apple orchard in the sticks. I enjoy these sort of attractions and would likely be a patron if she brought her show to Boston.
Sharks Don't Scare Easily
Event based businesses haven't fared well on Shark Tank in the past. They are, by nature, difficult to value. The Haunted Hayrides business, even though it's doing well, may suffer the same fate as other event based businesses and leave with no deal. This will be a very entertaining pitch and the Sharks will most likely have the "I love the business, but it's not for me" responses ready to go.
I can't wait to see a ghoul accost Mr. Wonderful, I just hope he doesn't bite one of them. After it's all said and done, Ten Thirty One Productions is going to benefit from the exposure. I'm sure the LA Haunted Hayrides will sell out quickly and the exposure on Shark Tank should make things easier for Carbone to expand to other cities next year. I think the Sharks are going "OUT" on this one, but save me a seat in the wagon!