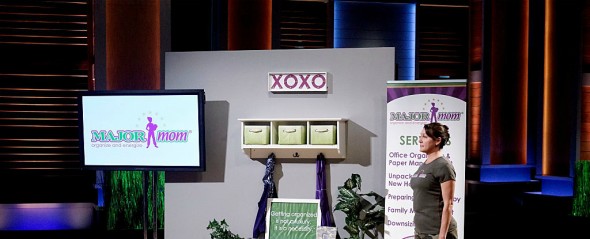 Angela Cody-Rouget pitches her home organization services to the Sharks in the season seven Shark Tank military special – episode 719. Rouget, a Major and 14 year Air Force veteran, was dubbed "Major Mom" by her husband after the birth of their first child in 2003.
She brought her experience creating "systems and order for the masses" in the military to her first jaunt as a solo professional organizer while raising her young children. In 2009, she opened the Major Mom Training Academy with the help of new business partner Mandy Pinkston. Since then, the business has grown to 16 Liberators (Professional Organizers) ​serving clients in four states.
They hire and train their own staff to organize homes and businesses and they have started franchising the concept recently. They aim to both help people de-clutter and give them a system that lets them live an efficient, stress-free, de-cluttered life. Their services include unpacking and organizing a home after a move, office organization, home organization, getting a home ready for a new baby, downsizing, merging households, and more. Once Major Mom is on the job, organization is easy!
Rouget likely wants a Shark to help with expanding the franchise base and the reach of "company stores." Will a Shark snap to attention and invest?
Major Mom Shark Tank Recap
Angela enters seeking $150k for 20% of her business. She's on a mission to combat clutter and disorganization. Her team can professionally organize any home or office. She shows some before and after pictures of success stories. When conducting her business, she embodies military values and tactics. She tells the Sharks. "if the President can trust me with the keys to the nukes, the Sharks can trust her with their money."
Mark asks what was the closest she came to launching nukes and Angela says "if I told you, I'd have to kill you!" After giving a brief history of how she started the business, she says she makes between $20K-$40K the past few years, but she's reinvested the profits into growing the business.
Robert thinks the money is in replication, but she's not there yet; he's out. So is Daymond. Kevin doesn't see the opportunity, he's out. Mark wants to know why she isn't making the business more fun, he's out. Lori thinks she's spread too thin on franchising, she's out. A still enthusiastic Angela says she'll keep going until she's a national brand.
RESULT: NO DEAL
Major Mom Shark Tank Update
Many businesses, when they fail to land a Shark in the Tank, end up floundering, but Major Mom is made of tougher stuff than the average entrepreneur. In spite of her inability to hook a Shark, Angela has held on, riding the wave of the Shark Tank effect to build her success.
She went so far as to quantify her Shark Tank effect, listing 139 new leads, 18 new clients, and $16,752 that she credits to the after-airing traffic. The company has trained more than 54 "Liberators." In Denver and Phoenix, Angela employs 32 "liberators" and employs 16 at her main location. By the end of 2017, she expects to quadruple her staff.
Even without a Shark on board, Angela is swimming toward victory, organizing her way to success. Major Mom, we salute you!
As of November, 2021 she has 14 locations in 5 states. Annual revenue is $5 million. In early 2022, the company announced it will be re-branding to "Major Organizers" over the course of the year. The change is in name only as the company will continue "restoring order to the world one household at a time." As of June, 2022, the change in name is gradually happening. Annual revenue is around $5 million.
Posts About Major Mom on Shark Tank Blog
Major Mom Company Information
Video