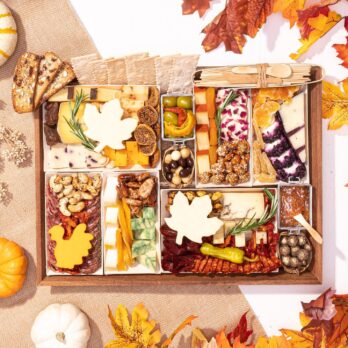 Aaron Menitoff and Rachel Solomon hope the Sharks take a bite out of Boarderie, their upscale, direct to consumer cheese board business, in Shark Tank episode 1407. The pair started the business, originally called Cheeseboarder, in 2020. They were running a very successful catering and events business and when the Covid-19 pandemic hit, it completely shut their business down.
Like many businesses did during the pandemic, they pivoted. They knew cheeseboards were a growing trend, so they started creating them and shipping direct to consumer. Each board contains a variety of artisan cheeses, meats, nuts, dried fruits, jam, olives and crackers. They're cut and packed fresh daily as orders come in and shipped out overnight to your home. They come arranged on a board which is part of the package.
They also do a big corporate gifting business. They made a lot of solid connections during their catering days. Their past clients include Bruce Springsteen and Prince Harry. The business got another boost when it was named one of Oprah's favorite things for 2022. Now, they're hoping a Shark will bite on this tasty business.
Company Information
Video

Posts about Boarderie on Shark Tank Blog
Boarderie Shark Tank Recap
Aaron and Rachel enter the Shark Tank seeking $300,000 for 5% of their company. They tell the Sharks they have gifts for them and they're "way cooler" than gift baskets her granny used to send out of a mail order catalogue and "way tastier" than overpriced fruit shipped to your door. They say the dominant players in the edible gifting space will send chunks of cheese and meat that you have to prepare for eating yourself. Next, they introduce The Boarderie, the first company that delivers ready to eat, catering quality, cheese boards and charcuterie boards nationwide. All you need to do is unpack the food, place it where it was when it was shipped and you're ready to eat in a few minutes.
They tell the Sharks to try their "Shark-cuterie" boards and the Sharks dig in. They say it's tasty. The company offers small, medium and large boards. They aren't custom made, they're made on an assembly line and they can make up to 3000 boards a day. Robert wants to know when his board was made and Aaron says the company standard is next day delivery. They make the boards in their 15,000 square foot production facility in Florida. The large board the Sharks have costs $91 to make; it wholesales for %154 and retails for $229 including shipping.
Aaron says he's been in hospitality and restaurants for his entire life. While in culinary school, he started a little catering business an in 15 years, he and his wife built one of the largest catering businesses in south Florida. Their clientele includes royalty, athletes and celebrities. When the Covid-19 pandemic hit, his business stopped. They started with eCommerce and one online eTailer. In 1 year, they got on Williams Sonoma and Door Dash and in 2021, they did $1.8 million in sales. In Q3 2021, they launched in Costco. 2022 sales will be $4 million. They'll make $400,000 on the $4 million. They just launched their direct to consumer website in July and did $30,000 in sales their first month.
Who's in?
Customer acquisition costs are $40-$60 in their first few weeks of testing (remember the segment taped in the summer of 2022). That's why they're in the Tank: they want to build out the direct to consumer side of the business. Because they use third party websites, they don't own their customer data and they can't remarket to them. Rachel and her husband moved to Florida to work remotely during the Covid-19 pandemic and she was a customer. She loved the product so much, she became a partner. She and Aaron own 75% of the business and they have another outside partner who's invested $750,000.
Kevin says there are 5 major competitors in the edible gifts space; he asks why they couldn't duplicate this idea. The Boarderie's "secret sauce" is their production facility and processes. Aaron and his wife invested $550,000: $300,000 from a home equity line of credit, a $100,000 SBA loan and a $100,000 line of credit against his catering business. Rachel has invested $2 million total. The pair says they can do $70 million a year out of their production facility.
Robert says he's impressed with them, but he doesn't like the 5% equity stake; he's out – even though Aaron says he can have as much cheese as he wants. Mark thinks they've done a great job, but he thinks it's replicable. The big players would be stupid not to compete and, even though he thinks they could still do it, he's out. Kevin says he knows the space and says his offer will reflect the risk he sees. He offers $300,000 for 17.5% equity. Lori wants to know what they need the money for. Rachel says they'll do $2 million in December, 2022 and they need the money for inventory.
Barbara has an offer but she thinks they'll need a lot more cash. She offers $300,000 cash plus a $300,000 line of credit for 15% of the business. Lori offers $300,000 for 13%. Kevin says he's the best Shark for the edible gifts business and he's the best for direct to consumer. Lori disagrees. Rachel and Aaron counter Lori with 8%. She asks Mark to say "40% of a watermelon is better than 100% of a grape." Lori says she'll go to 12% and they counter with 10%. Mark comes back in and says he'll do it for 10%. Lori drops to 9% and they do the deal.
Boarderie Shark Tank Update
The Shark Tank Blog constantly provides updates and follow-ups about entrepreneurs who have appeared on the Shark Tank TV show. The deal with Lori closed quickly and this business EXPLODED! Sales grew by 1000% by the close of 2022 and the company is the largest shipper of overnight packages in Florida. They employ over 70 people, including developmentally disabled adults hired through an organization called ARC Clients. In the aftermath of 2022's Hurricane Ian, they fed over 100,000 power linemen from all over the country who helped get the state back on grid. As of August, 2023, they are doing $70 million in annual revenue
The Shark Tank Blog will follow-up on Boarderie & Aaron Menitoff and Rachel Solomon as more details become available.