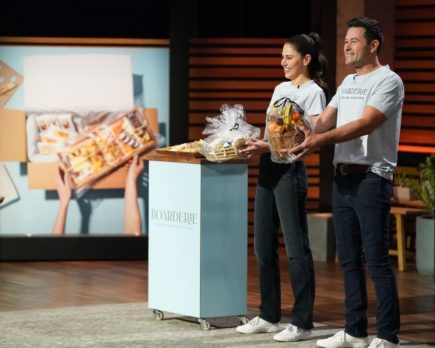 Aaron Menitoff and Rachel Solomon started The Boarderie due to Covid-19. Aaron was running an extremely successful catering and events company with his wife, Julie. They had a stable of celebrity clients, but when the world shut down due to the pandemic, they went to zero. They had to do something, so they brought on Rachel and a gentleman named Angel Jerez and started The Boarderie.
The Boarderie ships cheese boards directly to consumers – all you have to do is unwrap it and enjoy. Cheeseboards were always one of their most popular catering dishes, so they made a go of it. Each board is made up of artisan cheeses, meats, dried fruits, and more. They come on quality acacia wood boards and in a variety of serving sizes. Originally called Cheeseboarder, they started the company in 2020 and have seen significant growth.
The boards are one of Oprah's favorite things for 2022 and that's what brought the company to Shark Tank producers' attention. Boards range from $129 for a four serving board to $299 for a "deluxe" 12 serving board. There are boards that serve 5-7 that cost $179 too. The company also does corporate gifting where they put a company's logo on the boards. They're likely looking for a Shark's help scaling.
My Take on The Boarderie
Every Sunday during football season we get together with our friends to watch. One of our friends has a sweeet set up for watching sports: two TVs behind a six seat bar on their lanai. We watch the Patriots with sound on one TV and Tampa Bay or Buffalo on the other without sound. There are four couples and each week, we rotate who brings dinner, hors d'oeuvres etc. My favorite is when our friend Larissa brings a cheese board. She goes all out with the best cheeses, meats and other yummy stuff. Her boards look like The Boarderie's boards.
When I first saw the pricing for  these, I thought they were high, but then I thought about it a bit. To go out and buy good brie, goat cheese, salami, dates, olives and other goodies adds up quick – trust me! While you might save a few dollars buying at Publix, The Boarderie takes the work out of it. I am going to order one for football next time we're up for hors d'oeuvres!
Do Sharks Like Cheese?
I have a pretty good idea who will be most excited about this business: Mr. Wonderful. It fits right in with his wedding related business niche. I predict he'll make a strong play for this if the numbers are good. As for the other Sharks, it's  up in the air.
Barbara usually doesn't go for direct to consumer businesses, so I think she'll pass. This really isn't in Lori's wheelhouse, so I think she's out too. Both Robert and Mark like the direct to consumer model, so you might see an offer from one or both of them, but ultimately Mr. Wonderful wins the day.