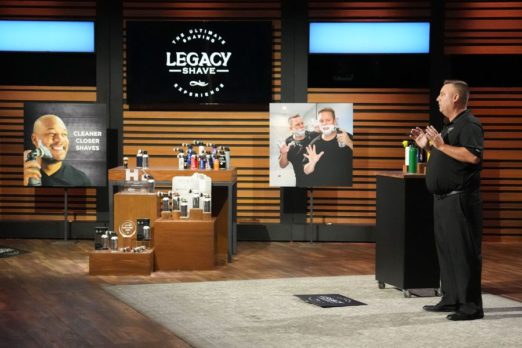 Mike Gutow and his brother Dave invented their Legacy Shave Brush twenty years before bringing it to market. Their invention is a shave brush that attaches to any shaving cream can with a universal adapter. They invented it, ordered 3000 units, assembled around 200 of them, then kind of put the project aside. 17 years after that, their dad got cancer and, sadly, passed away.
While cleaning out his parents' home, the brothers made a discovery from "beyond the grave." As a way  to pass time while getting chemotherapy treatments, dad had assembled all 3000 units ordered all those years before, The brothers took it as a sign and resurrected the product. They got it patented, tweaked the design a bit and started selling. Remember, this is 20 years after they invented the product!
The Legacy Shave Brush dispenses shaving cream right into the brush. This makes for less mess and it uses about 75% less shaving cream, keeping that can out of the landfill longer. The brush also stimulates hair follicles making for a closer shave. You can buy the Legacy Shave Brush on Amazon for 19.95 ($24.95 for custom colors). Dave couldn't make it to the Tank, so Mike will pitch the Sharks in Shark Tank episode 1407. Will the Sharks brush up a deal for this business?
My Take on the Legacy Shave Brush
I use a single blade, old school safety razor when I shave. I believe it gives me the closest shave. I use an electric trimmer to trim my moustache and beard. I use shaving cream, gel and sometimes Dove soap with a shaving brush. The brush is by far the neatest to apply and I like the feel of it.
I'd use this product daily. I hope Santa brings me one for Christmas! The brush really does stimulate your face before shaving. The reason I'd want this is for that feature  and the fact that I can use any shaving cream. I switch up brands a lot depending on what's on sale. I am in.
Will Sharks Get Lathered Up About This Business?
The biggest objection Mike will face is the time it took to bring the product to market. Other than that, if the numbers are good and the valuation is good, I think they'll hear an offer or two. All the male Sharks shave, so they'll identify with the product. Mark will probably call it a "product not a company" and he'll take issue with the time it took to bring to market. If Robert makes an offer, it'll be "sharky."
Barbara might make an offer if she likes Mike. Expect a royalty offer from Kevin. The Shark who does the deal is Lori. This is aimed at the masses, is reasonably priced and easily demonstrated. I expect Mike and Lori to be on QVC shortly after this airs.